USB Interface Development Board Tutorial -1
STAGE/PART-1
MAKING OF THE MAIN CIRCUIT BOARD
CONTROL YOUR DEVICES FROM COMPUTER USING USB PORT – pic18f4550 + MPLAB IDE
INTRODUCTION ( USB PROJECT) : STEP 1
This project demonstrates a computer control interface using a USB Board. (USB INTERFACE PROJECT). This tutorial will show you a simple way to control some device like led, motors and other devices with computer through a USB Board. The traditional way to control devices from a computer was to use a parallel printer port which is much more easy to implement than that of a USB PROJECT, but the only limitation with parallel printer port is that the latest computer does not comes with parallel printer port. So you can use this project as an alternative to a parallel port interface. pic18f4550 usb interface project is Human Interface Device (HID).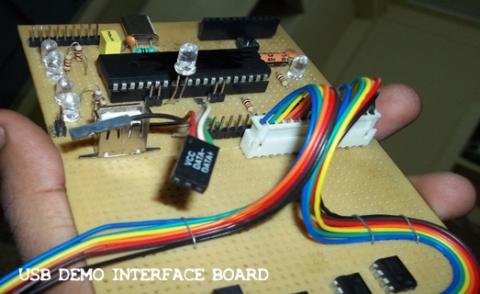 If you are thinking that Buying a USB to Parallel port converter would work then you are wrong ! , hence this one is an very good alternative .
For this USB Interface Board we are going to use a Microcontroller "PIC18F4550"
This tutorial is not so difficult for a experienced person however I am also posting a step by step procedure for beginners . If you are an experienced person with microcontroller then all you need to do is to make the USB board Circuit and then burn the firmware into the microcontroller , with a microcontroller programmer and then install the drivers on your system , and finally launch the application after connecting the main board to the computer with a USB PORT.
-Experienced personal can go to end of Interface Board link and can download everything at the end of that page. Beginners can follow this page and continue on for full description.
– This project allows you to control some device with your computer on clicks of few buttons on a small application written in C# which communicates through the pic18f4550 microcontroller. But creating this board can be difficult for beginners and easy for experienced persons.
SO beginners please follow this entire tutorial step by step.
Please watch the video below so see the PIC18F4550 Microcontroller in action.
APPLICATION OF USB DEMO BOARD (USB ROBOT)
In traditional parallel printer port interface project all you have to do is to connect few led's across you parallel port (printer port) and code an application in Visual Basic or C# and you are done. But when it comes to USB port control, its quiet complex way than parallel printer port control.
This Tutorial will show you in details for constructing this USB pic18f4550 circuit and running it from a C# application. Please read and follow all the posts.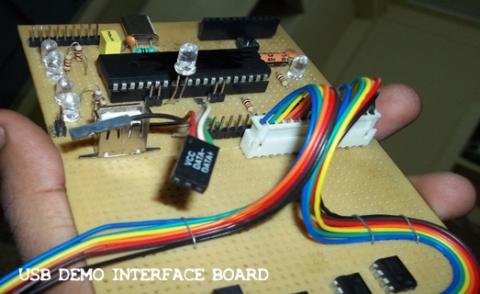 PIC18F4550 Interface Board
Current Project / Post can also be found using:
usb pic18f4550
pic18f2550 usb example code
pic 18f4550 usb tutorial
pic microcontroller usb interface