One Arduino named hunting, ca based on the development project carried out was very popular a lot like made ​​additional modules say in every country a system used was Sebastien Lelong same job jalv2...Electronics Projects, Open Source Project Development Platform Jaluino Jalv2 PIC18F4550 "avr development board, pic development board, " One Arduino named hunting, ca based on the development project carried ...
Read more

›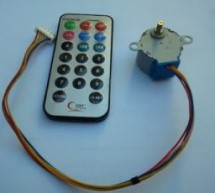 This project shows how to control a 5V unipolar stepper motor from IR remote control uses NEC protocol with PIC18F4550 microcontroller. This controller controls the stepper motor speed and direction of rotation. If you want to see how to drive the unipolar stepper motor using PIC18F4550 microcontroller read the following topic:Interfacing unipolar stepper motor with PIC18F4550 microcontroller And if you wan ...
Read more

›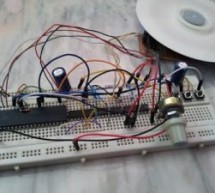 In the following topic URL we've seen how to control BLDC motor speed and direction of rotation using PIC18F4550 microcontroller and 3-phase bridge circuit:CD-ROM Spindle motor (BLDC) control with PIC18F4550 microcontroller This topic shows how to make the same controller using L293D motor driver instead of the 3-phase bridge circuit. The 3 phase bridge is more complicated and expansive and while the L293D ...
Read more

›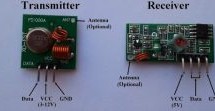 5-Channel RF (Radio Frequency) remote control transmitter/receiver using PIC18F4550 microcontroller Today RF modules are widely used in many applications (wireless data transmission, quadcopter, car remote control....). This project shows how to use low cost 433MHz RF transmitter/receiver modules to build a 5-channel wireless RF remote control system using 2xPIC18F4550 microcontrollers. The used RF modules ...
Read more

›
This post shows how to connect ST7735S TFT display to PIC18F4550 microcontroller and display different things (numbers, text, lines, circles .....). The compiler used is CCS PIC C. To interface PIC18F4550 with the ST7735 TFT display we need a small library (driver) which can be downloaded from its original post at the following url: ST7735 SPI TFT Display Driver for CCS PIC C compiler Or you can just downlo ...
Read more

›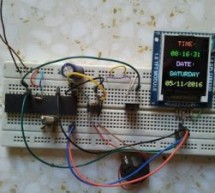 (Some knowledge about RC-5 protocol is required) This project shows how to build a remote controlled real time clock with TFT display using PIC18F4550 microcontroller. In this project DS1307 RTC is used as a real time clock chip and the remote control is an IR (infrared) remote control which uses RC-5 communication protocol, this remote control is used to set time and date. The device used t display time an ...
Read more

›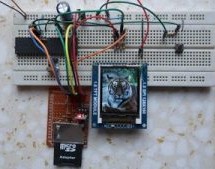 This example shows how to display Bitmap (BMP) image files from SD card on ST7735 1.8" (128x160) TFT screen using PIC18F4550 microcontroller and CCS PIC C compiler. To build this project we need the ST7735 TFT driver, SD card driver and FAT16 library. The three source files must be added to the project folder (or CCS C driver folder) in order to compile the C code. The ST7735 driver is update to support the ...
Read more

›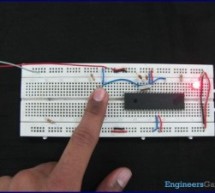 Any microcontroller based system typically has an input and a corresponding output. Taking simple output with a PIC microcontroller has been explained in LED blinking with PIC18F4550. This article explains how to provide an input to the controller and get a corresponding output using PIC18F4550. PIC18F4550 has a total of 35 I/O (input-output) pins which are distributed among 5 Ports. Each Port of a PIC micr ...
Read more

›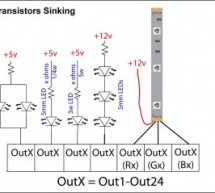 24 Channel USB Connected LED Controller, upto 1A per Channel This device is designed to be a versatile high-current LED controller, with the ability to sink or/and source currents up to 1A per channel with dissipation of up to 2.5w per channel. The various jumpers and transistor placement allow the device to control many different types of LED configurations with LED voltages of up to 36v. Easily controls 5 ...
Read more

›