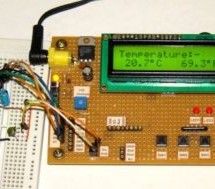 This is a revised version of my LM35 based digital thermometer project that I posted last year. Although it is one of the simplest projects, it is very popular among newbies who are just starting to learn microcontrollers. There was a little flaw in the original project as pointed by some readers. I was using a 1.2 V reference for A/D conversion with PIC16F688 microcontroller. However, the PIC16F688 datashe ...
Read more

›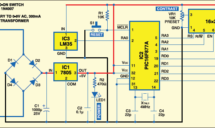 Temperature monitoring and control is important in industry environments. Sensors are widely used for measurement of temperature. Usually, a temperature sensor converts the temperature into an equivalent voltage output. IC LM35 is such a sensor. Here we describe a simple temperature measurement and display system based on LM35 sensor and PIC16F877A microcontroller. The temperature in degrees Celsius is disp ...
Read more

›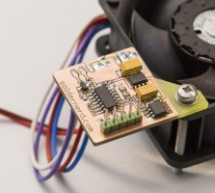 I'm currently mainly working on my new anemometer design but once in a while I get distracted. For example when my Keysight E3645A lab power supply was making so much noise that I could hardly concentrate. That's when the idea of this fan controller was born.Of course, the best temperature controlled fan in the world doesn't help if you really need the cooling the fan is providing. But very often a small fr ...
Read more

›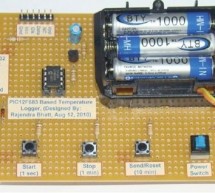 Introduction A data logger is a device that records measurements over time. The measurements could be any physical variable like temperature, pressure, voltage, humidity, etc. This project describes how to build a mini logger that records surrounding temperature values. It has following features: - Uses just one 8?pin chip, so very compact size circuit. - Temperature range: 0 to +125°C. - Can store up to 25 ...
Read more

›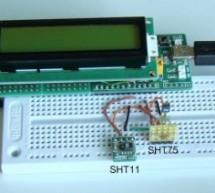 In Part 1 of this tutorial, we discussed about Sensirion's SHT1x and SHT7x series of humidity sensors, their interface specifications, the communication protocol used for transferring data in and out of the sensor, and the equations to convert their digital outputs to actual physical quantities. These sensors are capable of measuring temperature along with relative humidity and provide outputs in fully-cali ...
Read more

›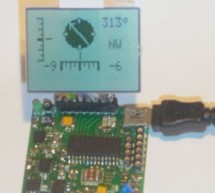 This page will show you how to use the TD-CMP modules in a way which fits you most. Here are the technical specifications of the modules: Compass: Resolution: 1° - Accuracy: 3° Tilt/Roll: (TD-CMP02 and TD-CMP03 only) Resolution: 2° - Accuracy: 5° Temperature: (TD-CMP03 only) Resolution= 1°C/F - Accuracy =1° New: Sampling rate: 12,5 to 25 samples/second. Easy Tilt/Roll calibration.(TD-CMP02 and TD-CMP ...
Read more

›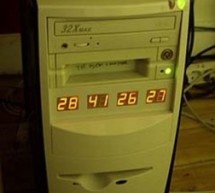 Since I started my watercooling prejoect, I have been verry interested in how well it perform, the only way is to measure all temperatures before and after, The motherboard temperature sensors is useless unacurate, so I'm using LM50B By using this LM50B sensor I get 1 C of real accuracy I use a PIC16F876 to drive a four two digits LED displays, the PIC16 has 4 analog inputs with 10 bits resolution, now I ca ...
Read more

›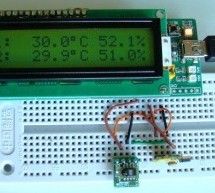 Temperature and relative humidity are two very important ambient parameters that are directly related to human comfort. Sometimes, you may be able to bear higher temperatures, if there is a lower relative humidity, such as in hot and dry desert-like environment. However, being in a humid place with not very high temperature may make you feel like melting. This is because if there is high relative humidity, ...
Read more

›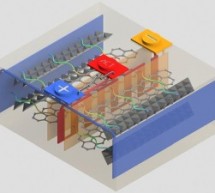 A new "all-climate" lithium-ion battery can rapidly heat itself to overcome freezing temperatures with little sacrifice in energy storage capacity and power, researchers say. This advance might enable applications for which high-performance batteries are needed in extremely cold temperatures, such as electric cars in cold climates, high-altitude drones, and space exploration. EC Power is now creating all-cl ...
Read more

›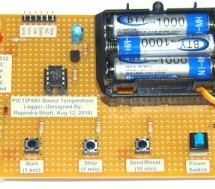 Introduction There are varieties of digital temperature logger projects available online based on different microcontrollers. The one I am going to talk about is based on a Microchip's 8-pin microcontroller, PIC12F683. It reads temperature values from a DS1820 digital sensor and stores in its internal EEPROM. PIC12F683 has 256 bytes of internal EEPROM and we are going to store the temperature values in 8-bi ...
Read more

›