The DE1-SoC board is populated with a six digit 7-segment display. All digits are connected to the FPGA. Therefore, in order to control the 7-segment display out of the Linux userspace code, one has to create a new component in QSys that is connected to the AMBA-AXI bus. But first of all, please note that this is a blog post, not a comprehensive tutorial. The text below does not replace the official Altera ...
Read more

›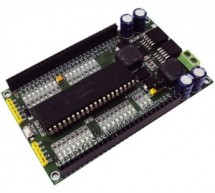 This is a 40 & 28 PIN PIC Development Board The PIC 40 / 28 PIN (DIP) Development / Evaluations board demonstrates the capabilities of Microchip's 8-bit microcontrollers, specifically, 28- and 40-pin PIC16FXXX, PIC16F1XXX, and PIC18 devices. It can be used as a standalone demonstration board with a programmed part. With this board you can develop and prototype with all Microchip's 40 & 28 PIN PIC mi ...
Read more

›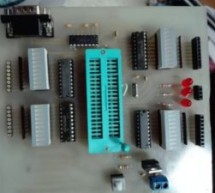 Our instructable shows how to create a generic board of PIC18 micro-controller which is further used in advanced embedded projects as there is a number of PIC micro-controller applications .e.g. microwave ovens, multimedia devices, medical and health based equipment e.g. blood-pressure meter, UPS, Power supplies, burglar alarms & detectors and other security and safety equipment. Now the question ...
Read more

›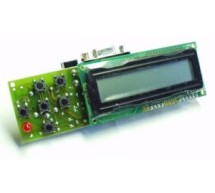 Replacement: None. We do not have a direct replacement for this board. This page is for reference only. Description: A fun package full of potential projects! Development board for 28 pin PIC microcontrollers with power supply circuit, crystal oscillator circuit, RS232 port, ICSP/ICD port, 16x2 alphanumeric Supertwist LCD display, 6 button keyboard, Dallas touch button port, frequency input, ADC input, rela ...
Read more

›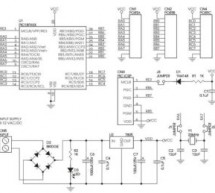 Description This is a versatile, configurable, and cost effective Development Board designed for the 18F – 28 pin series of Microcontroller from Microchip. The board is simplest form with all the Port pins terminating in a header connector for easy connection to the outside world. Power Supply 7-18V DC Rajkumar Sharma      http://www.rajkumarsharma.com 3756 This is a PIC18F Development board with ICSP conne ...
Read more

›
18 pin PIC Development Board I have long been playing with Microchip PICs but have always made do without some form of development board. To that end I have designed a basic board that I was hoping to get some input for. I haven't yet made this board as I am waiting for some kit to turn up to finish it off and make it, however I thought others may be in a position to use or modify it. Project requirements T ...
Read more

›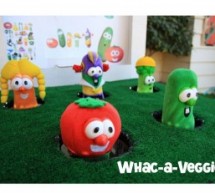 Whac-a-Veggie For this year's Trunk 'O' Treat game I wanted to make a something fun and exciting for kids to play so I choose a Whac- a-Mole type game called Whac-a-Veggie using the Veggie Tales characters. The Whac-a-Veggie game is played with a foam hammer in your hand and the veggie characters randomly popping-up quickly and you have to hit them on the head before they go back in there holes to sc ...
Read more

›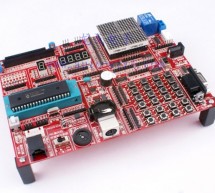 Development board backplane Plug-in part by wave soldering process , the board also neat reverse . The curved surface of the pad foot , guaranteed not to scratch your desktop. The system uses a fully independent module design , DIY leave enough space to the user can use any combination of the modules for a variety of experiments. The benefits of individual modules is self-evident , but for beginners operati ...
Read more

›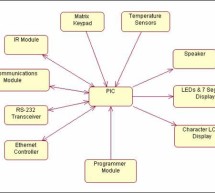 Abstract The objective of this project is to produce a PIC evaluation/development board to be used by future ECPE senior design project teams.  Many project implementations call for some sort of microcontroller unit in the final product, and this need can often be met by a simple PIC microcontroller.  However, the development of a PIC solution is often beyond the expertise and available time of the design t ...
Read more

›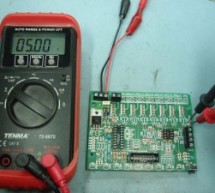 Description The simple 8 channel LED chaser has been a very popular project on Picprojects since it was first published a couple of years ago.  During that time there has been a demand for a board that could drive more LEDs so I started designing a new version of the LED Chaser using MOSFETs.  What I wanted to do was come up with a circuit design and PCB that while fulfilling the need for a MOSFET driver co ...
Read more

›