Direct Insight has introduced a QSMP Solder-down module featuring the STMicro ST32M1 single/dual core ARM Cortex-A7 processor. The module has been manufactured by the Direct Insight's partner, Aachen-based Ka-Ro Electronics. [via]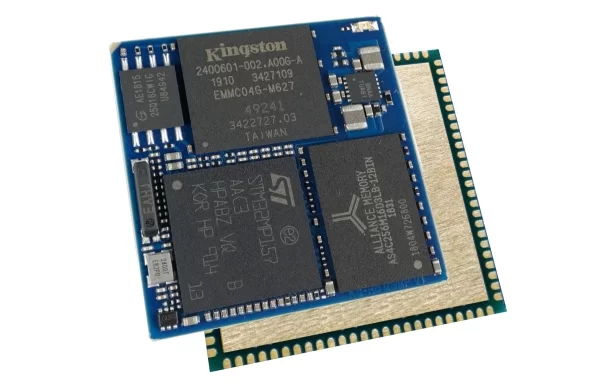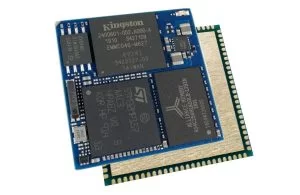 The SOM has been built around an ST32M1 family processor that is powered by a single or dual 650MHz ARM Cortex-A7 core, which is supported by a separate ARM Cortex-M4 operting at 200MHz with up to 512MB of DDR3L RAM and up to 4GB eMMC Flash. The ST chip also offers a wide range of interfaces. The chip has been developed to provide low power operation, combined with security features and high-performance. To boost performance, the ST32M157C can offer a powerful 3D GPU and the integrated security features include secure boot and an AES/TDES/SHA crypto-engine.
The QSMP SoM measures 27mm square and is only 2.3mm high. It has been manufactured in a solder-down package that features a QFN-type pin-out that is based on a 1mm pitch with 100 edge-located pads. The SoM has been built this way to assist inspection and simplify routing. It even permits a two-layer baseboard and a base plane. The ground plane design helps the modules 'float' into position during reflow, unlike a BGA which requires X-Ray inspection to ensure full connectivity. The QS solder-down modules are small enough to prevent warping. The package's design also improves thermal efficiency and EMI performance with the base functioning as both a ground pad and a thermal conductor. The modules can operate across the industrial temperature range of -40 or -25 to +85degC.
Read more: SOM PROVIDES ARM CORTEX-A7 PERFORMANCE IN QFN-STYLE PACKAGE