Populated with the Intel Core i5 7300U and i3 7100U processors, the WUX-7x00U is a small form factor (SFF) embedded board by Portwell. The processors, formerly codenamed Kaby Lake, integrate the low power Intel Gen. 9.5 HD Graphics, 620 graphics engine with 24 execution units, enabling enhanced 3D graphics performance and higher speed for 4K encode and decode operations.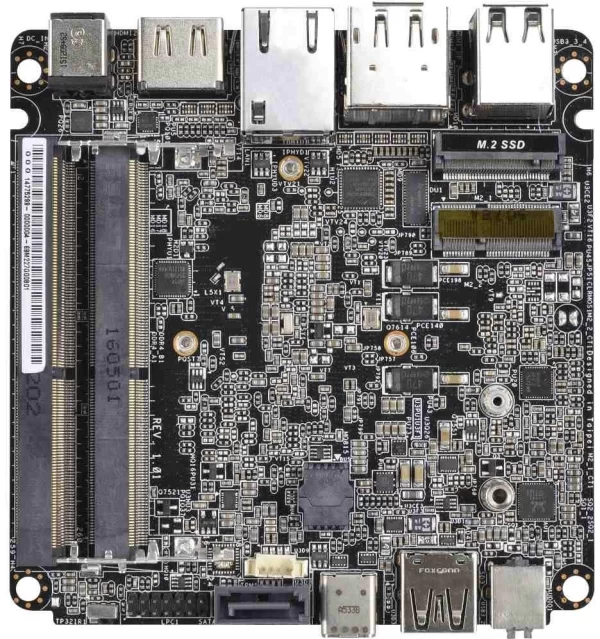 The low power consumption makes the WUX-7x00U particularly suitable for applications such as medical equipment, IoT gateway, industrial automation, warehouse automation and digital signage.
The WUX-7x00U has a compact footprint of 101.6 x 101.6mm or four x four-inch. Within this compact area, it has up to 32Gbyte DDR4L SDRAM (2133MHz) RAM and multiple storage interfaces like one SATA III port and one M.2 Key M for SSD. There are also three USB 3.0 ports and one USB3.0 Type-C port. The Intel 620 HD graphics engine drives one DisplayPort (DP) (4096 x 2160) and two high definition multimedia interfaces (HDMI) with resolution up to 4096 x 2304, which can be operated simultaneously. An M.2 Key E interface, enables wi-fi and Bluetooth communication and connectivity for IoT applications.
The Portwell WUX-7x00U operates with thermal design power (TDP) of 15W. The integrated low-profile fan ensures long and stable operation. The wide voltage power input ranges from 12 to 19V. The design and multi-core processing power ensures that the Portwell WUX-7x00U embedded board can execute an array of applications that demand processing power as well as connectivity from digital signage in various environments, from manufacturing robots and industrial automation, through to video analytics-based appliances.
Portwell is an Associate member of the Intel Internet of Things Solutions Alliance, designs and manufactures a full range of IPC products (SBC, backplane, redundant power supply, rack mount and node chassis), embedded architecture solutions, DVR system platforms and communications appliances. Portwell provides R&D and project management services to reduce time to market, and lower project risk and cost.
Read more: SMALL FORM FACTOR BOARD HAS COMPUTING POWER FOR MEDICAL AND IOT