The mass flow meter SFM4300 features improved sensitivity and precision, even for low flow rates.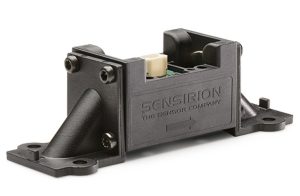 The small, compact sensor is calibrated for air, O2 and N2O gases and – in contrast to its predecessor, the mass flow meter SFM4100 – it can also be used to monitor gas mixing. With a zero-point accuracy of 0.005 slm for a total range of up to 20 slm, the SFM4300 enables precise adjustment of the concentration in a wide selection of mixtures. The sensor unit has an I²C interface and produces a fully calibrated and temperature-compensated output signal. The mass flow sensor can be used for both medical and industrial gas mixing, fuel cells and for other OEM applications.
Features
Compact
High precision and sensitivity (esp. for low flow rates)
Flow range: 0 to 20 slm
Very pressure-resistant (up to 6 bar)
Multigas option: O2, air, NO2 (other calibrations on request)
Fully calibrated and temperature-compensated
Digital I²C interface
Mechanical connections: downmount, Legris, O-rings
Applications
Medical gas mixing: anesthesia, vaporizers
Industrial gas mixing: welding applications
Fuel cells
OEM applications
Flow Sensors for Gas Mixing in Respiratory Devices
In addition to inspiratory, expiratory and proximal flow measurement, Sensirion offers sensor solutions for gas mixing applications. These sensors are mainly used in anesthesia machines and are usually integrated into the overall machine. If we want to guarantee the patient's safety while taking accurate, reproducible readings, we need the flow sensors in the machine to be stable and reliable – throughout the machine's service life.  Therefore, the Sensirion SFM4000 series is the ideal solution. It is is devided in two sensors: SFM4300 and SFM4200. The SFM4300 sensor can operate at pressures of up to 6 bar, store multiple gas calibrations and even perform self-testing while in use. Where safety and reliability are concerned, the SFM4300 is the preferred choice. The SFM4200 sensor is highly resistant to pressure, it guarantees reliable measurements at surges of up to 8 bar. Its signal processing time is 0.5 ms, making it incredibly fast and accurate. Customers also benefit from an expanded measurement range of up to 160 liters per Minute.
Read more: SFM4300 – MASS FLOW METER FOR SENSITIVE GAS MIXTURE MEASUREMENT AT LOW FLOW RATES