Save space on your PCB with TRACOPOWER!
TMLM family of 4-20W AC/DC power supply is the right solution on most important requirements – constraint space, high efficiency and cost saving.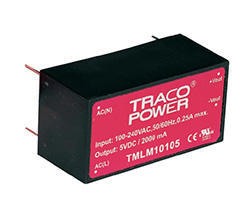 5
Every square inch of your PCB costs money. It is a fact, and if you can reduce your PCB´s area, you actually save money. Moreover if you use a high efficiency power supply you save energy.
The TMLM Series switching power supplies, offer highest power density in a fully encapsulated module which can be soldered directly on to PCBs. This feature makes these modules an ideal solution for all space critical applications in commercial and industrial electronic equipment. International safety approvals qualify the product for worldwide markets. SMD-technology and high efficiency guarantees a high reliability of these Power Supplies.
For more detail:  Save space on your PCB with TRACOPOWER!
Project Ratings:
Related posts
Leave a Comment