Advantech, a leading global provider of intelligent IoT systems and embedded platforms, is pleased to announce MIO-2361, the latest Pico-ITX single board computer designed with onboard LPDDR4-2400 & 32G eMMC powered by Intel® Atom™ E3900 series/Pentium® N4200/Celeron® N3350 processors.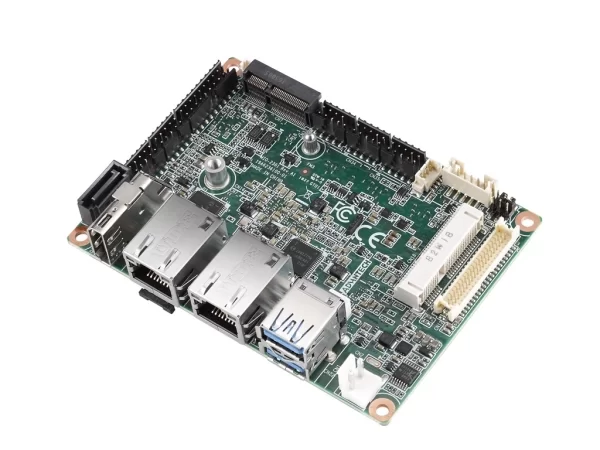 The rugged design of the MIO-2361 means typical memory (socket type) assemblies are not used. The MIO-2361 offers deep power down mode, 12V/24V +/- 10% power input, better storage capacity, M.2/mSATA, and -40° to +85°C wide temperature support.
Combined with Intelligent Management Software Integration, MIO-2361 offers various types of selected embedded OS including Windows 10 and Linux Yocto BSP for testing hardware drivers and devices to prevent unauthorized data access. MIO-2361 is also integrated with WISE-PaaS/DeviceOn IoT device management software designed by Advantech to expedite IoT development particularly in factory automation.
Superior Quad-Core Performance with Selected 12V/24V Power Supply
Equipped with Intel® Atom™ E3900 series /Pentium® N4200/Celeron® N3350 processors, MIO-2361 offers 1.7 times the compute power over previous generation processors. When paired with a quad-core processor, MIO-2361's additional memory and rapid storage capabilities enhance coordinated computing by accelerating operational processes. MIO-2361 also supports 12V/24V power supply for power-exchange processing, reduces power consumption, and facilitates the integration of existing data without sacrificing software compatibility.
Rugged Design with Flexible I/O Expansion for Harsh Environments
MIO-2361 offers wide operating temperature support from -40°C to 85°C for use in harsh environments. Its heatsink is designed as a dynamic heat conduction system which enhances thermal conduction from hot components to the heat spreader. MIO-2361's heatsink outperforms similar designs by dissipating heat from the CPU more effectivity and reduces temperatures by approximately 11°C ~ 25°C. Furthermore, 2 x RJ45 ports (rear I/O) and HDMI4.1b (right-angle) are also one of MIO-2361's main features that give the customer more flexible I/O selection. With onboard LPDDR4-2400 designed to decrease its total height, MIO-2361 has the smallest PCB size (100 x 72mm) which easily fits in any ultra-slim embedded chassis to save space. MIO-2361 also features 32G eMMC flash memory that delivers the needed performance for smooth onboard computation with low TDP. MIO-2361 is ideal for electric car recharging stations, outdoor video players, as well as for factory automation equipment.
Read more: RUGGED PICO-ITX MIO-2361 SBC FEATURING ONBOARD LPDDR4 & EMMC