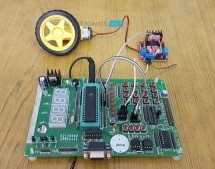 In this project, we will learn about L293D and L298N Motor Drivers and also about Interfacing DC Motor with 8051 Microcontroller with the help of both L293D and L298N. When we talk about controlling the robot, the first thing comes into the mind is controlling DC motors. Interfacing DC motor to the microcontroller is very important concept in Robotic applications. By interfacing DC motor to the microcontrol ...
Read more

›
Stepper motor is brushless DC motor, which can be rotated in small angles, these angles are called steps. Generally stepper motor use 200 steps to complete 360 degree rotation, means its rotate 1.8 degree per step. Stepper motor used in many devices which needs precise rotational movement like robots, antennas, hard drives etc. We can rotate stepper motor to any particular angle by giving it proper instruct ...
Read more

›
A Tachometer is a device which measures the speed of a rotating object like an electric motor or a crank shaft of a vehicle engine. Speed of an electric motor is determined by the number of revolutions made by the motor in one minute. In other words, speed is measured in RPM (Revolutions per Minute). Here, in this project, we designed a simple Non – Contact or Contactless Digital Tachometer using 8051 Micro ...
Read more

›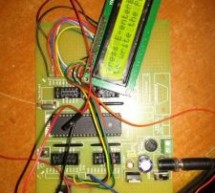 Hey friends this is my 3rd year BE project " Speed control of DC motor"which i could like to share with you .In this you will learn how to interface LCD,hex keypad and motor .The code is written in assembly      to simplify I have first explained separately LCD interfacing hex keypad interfacing ,motor interfacing with L293D so Lets get Started !!! Step 1: Materials Required *89S52*LCD *Hex keypad*DC motor  ...
Read more

›
Low power DC motors can be easily controlled with half H-bridge IC L293D. This IC is 16-pin IC which can control 2 motors in both directions. This topic shows how to control DC motor speed and direction with PIC16F84A and L293D motor drive integrated circuit. Related topics: The following topic shows how to control a DC motor with PIC16F84A and H-bridge circuit. DC Motor speed and direction control with PIC ...
Read more

›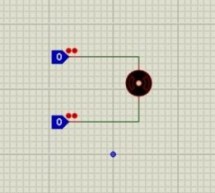 Hello friends, hope you all are fine and enjoying good health. In the previous posts, we have seen How to design a 5V DC power supply in Proteus ISIS and after that we have also discussed How to design a variable DC Power supply using LM317.So, now today we will check how to design a DC Motor Drive Circuit in Proteus ISIS. DC motor is present in Proteus and quite easy to use. First we will simple drive it b ...
Read more

›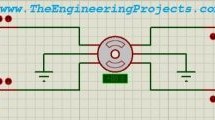 Hello friends, hope you all are healthy, wealthy and wise. Today's topic is about the control of stepper motor. In the last post we have seen How to control DC motor in Proteus, and now we are gonna see How to design a Stepper Motor Drive Circuit in Proteus ISIS. Stepper motors are usually of two types and the main difference between the two is in the number of wires used to control them. Mostly stepper mot ...
Read more

›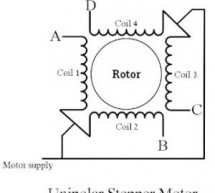 This topic shows how to drive 5V unipolar stepper motor in 3 modes one-phase, two-phase and half step. The microcontroller used in this project is Microchip PIC12F1822 and the motor drive circuit is ULN2003. Usually the unipolar stepper motor has 5 wires one for motor supply and the other for coils. This motor has 4 coils and they are connected as shown in the figure below: Unipolar Stepper Motor Control Ex ...
Read more

›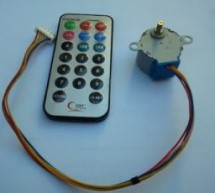 This project shows how to control a 5V unipolar stepper motor from IR remote control uses NEC protocol with PIC18F4550 microcontroller. This controller controls the stepper motor speed and direction of rotation. If you want to see how to drive the unipolar stepper motor using PIC18F4550 microcontroller read the following topic:Interfacing unipolar stepper motor with PIC18F4550 microcontroller And if you wan ...
Read more

›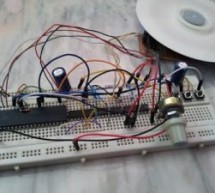 In the following topic URL we've seen how to control BLDC motor speed and direction of rotation using PIC18F4550 microcontroller and 3-phase bridge circuit:CD-ROM Spindle motor (BLDC) control with PIC18F4550 microcontroller This topic shows how to make the same controller using L293D motor driver instead of the 3-phase bridge circuit. The 3 phase bridge is more complicated and expansive and while the L293D ...
Read more

›