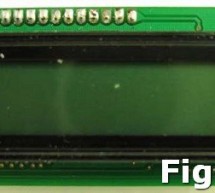 Adding a Digital Meter and Functions to Analog Geiger Counters The Digital Meter Adapter is a expansion module for adding digital functions to Analog Geiger Counters that have a pulse output. If you're geiger counter outputs a ttl pulse for every radioactive particle it detects, your Geiger counter will connect to Images SI Inc.'s DMAD Digital Meter Adapter. The DMAD has three functionalities to enhance the ...
Read more

›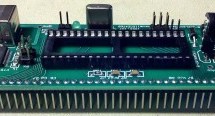 This project is specially designed to measure surface mount capacitors in the range 1p to 920n and electrolytics in the range 1u to 100u. The biggest problem with surface mount capacitors .  .  .  they are not identified! And you cannot determine their value by the size of the component. This makes it very difficult. Unless you know the value when taking it off a reel, they can get mixed up and fitting a 22 ...
Read more

›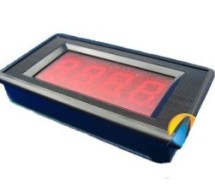 This PIC LCD volt meter project uses a PIC micro and an HD44870 LCD display. The analogue input is taken directly to the analogue input pin of the microcontroller without any other processing. So the input range is from 0V to 5V - the maximum source impedance is 2k5 (for testing use a 1k pot). To improve the circuit add an opamp in front to present greater impedance to the circuit under test. The output imp ...
Read more

›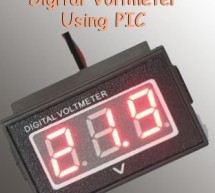 Speedometer is a speed measuring gauge used to calculate the speed of motor vehicles. They are mainly of two types- electronics and mechanical. Digital speedometer measures the speed and mileage in vehicles. Normally both types work on the principle of electromagnetism, however they have a disadvantage that they cannot be used if there are no wheels on the moving object. Here I am introducing a simple digit ...
Read more

›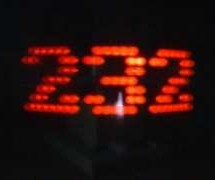 Introduction After I made the clock, the pong and tetris games I thought that it also would be cool to connect the game system to a standard rs232 port and scroll text comming from the port. When I thought about it, I found that there is a problem scrolling text comming from a RS232 port because you don't know in what speed the letters are comming, so you don't know how fast to scroll each letter at pixel l ...
Read more

›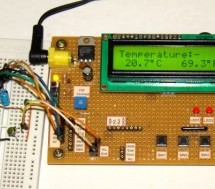 This is a revised version of my LM35 based digital thermometer project that I posted last year. Although it is one of the simplest projects, it is very popular among newbies who are just starting to learn microcontrollers. There was a little flaw in the original project as pointed by some readers. I was using a 1.2 V reference for A/D conversion with PIC16F688 microcontroller. However, the PIC16F688 datashe ...
Read more

›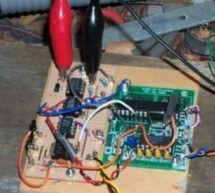 Capacitance Probe A simple probe can be made using insulated wire. The insulation is then the dielectric of an cylindrical capacitor with the inner conductor as one plate and the water as the other. The probe is not suitable for distilled or very pure water because it is not conductive enough. It works well even in relatively clean water such as roof runoff water in a plastic tank. PVC plastic coated multis ...
Read more

›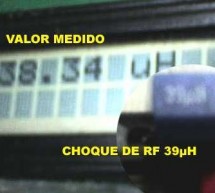 The good and high precision capacitor meter (Capacimeter) inductor meter (inductimeter) auto range lc meter for pic 16f84 or pic 16f628 and display lcd by phill rice Construction of an apparel that allows measure inductors (Inductimeter) and capacitors (Capacimeter), knower like LC meter, using PIC (16f84 or 16f628) and display marries in LCD. Translated of the excellent project inductor and capacitor meter ...
Read more

›
Summary. A design for a simple microwattmeter. Input range -75 dBm to + 5 dBm. Frequency range 2 to 50 MHz. Level resolution is 0.1 dBm, frequency resolution is 10 kHz. Log-output about 0.5 - 3.5 Volt. Output for external counter. The meter uses a AD606 as log-converter, a MAX186 as ADC, a PIC16C84 as controller and a HD44780 type LCD. The PIC measures frequency and level of the input signal and calculates ...
Read more

›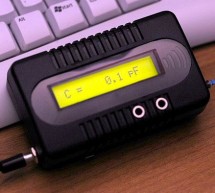 Accurate LC Meter Part's List: 1x 16x2 LCD Display with Green / Blue Backlight 1x PIC16F628A Programmed Microcontroller 1x LM311 IC 1x Accurate LC Meter PCB with red solder mask 1x Enclosure 1x Gold Plated Machined 18 DIP IC Socket 1x Gold Plated Machined 8 DIP IC Socket 1x L/C Pushbutton Switch with Black Cap 1x Tactile momentary reset switch with Black Cap 1x Gold Plated 16-PIN LCD Female Header 1x Gold P ...
Read more

›