Off-line LED controllers get dimming and PFC
Description
The LT3799 is an isolated flyback controller with power factor correction specifically designed for driving LEDs. The controller operates using critical conduction mode allowing the use of a small transformer. Using a novel current sensing scheme, the controller is able to deliver a well regulated current to the secondary side without using an opto-coupler. A strong gate driver is included to drive an external high voltage MOSFET. Utilizing an onboard multiplier, the LT3799 typically achieves power factors of 0.97. The FAULT pin provides notification of open and short LED conditions.
The LT3799 uses a micropower hysteretic start-up to efficiently operate at offline input voltages, with a third winding to provide power to the part. An internal LDO provides a well regulated supply for the part's internal circuitry and gate driver.
Features
Isolated PFC LED Driver with Minimum Number of External Components
TRIAC Dimmable
VIN and VOUT Limited Only by External Components
Active Power Factor Correction (Typical PFC > 0.97)
Low Harmonic Content
No Opto-Coupler Required
Accurate Regulated LED Current (±5% Typical)
Open LED and Shorted LED Protection
Thermally Enhanced 16-lead MSOP Package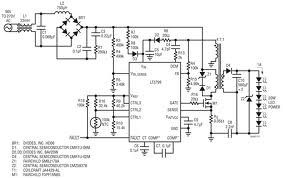 Two Californian chip makers have announced their first forays into dimmable power factor corrected LED drivers.
Linear Technology has produced a single-stage flyback design and iWatt – fabless producer of low stand-by phone charger chips – has plumped for a more traditional two-stage topology.
Both are claiming +/-5% current regulation, >0.9 power factor, and isolation with no opto-coupler.
Dimmable in this context means that the chips are designed to work with wall dimmers previously installed for incandescent bulbs, which are far from ideal for dimming LEDs.
Linear Technology's offering is the LT3799, "specifically designed for driving LEDs from a universal input range of 90 to 265Vac" said Linear.
It is aimed at loads from 4W to over 100W, with efficiency up to 86%, and is compatible with triac dimmers "without any visible flicker", claims Linear, adding that it is also compatible with analogue voltage dimming.
PFC is up to 0.977, complying with IEC 61000-3-2 Class C lighting equipment harmonic requirements.
Open and shorted LED protection is included – as it is in the iWatt design.
For more read: Off-line LED controllers get dimming and PFC
Project Ratings:
Related posts