Description
The LMP90100/LMP90099/LMP90098/LMP90097 are highly integrated, multi-channel, low power 24-bit Sensor AFEs. The devices features a precision, 24-bit Sigma Delta Analog-to-Digital Converter (ADC) with a low-noise programmable gain amplifier and a fully differential high impedance analog input multiplexer. A true continuous background calibration feature allows calibration at all gains and output data rates without interrupting the signal path. The background calibration feature essentially eliminates gain and offset errors across temperature and time, providing measurement accuracy without sacrificing speed and power consumption.
Another feature of the LMP90100/LMP90099/LMP90098/LMP90097 is continuous background sensor diagnostics, allowing the detection of open and short circuit conditions and out-of-range signals, without requiring user intervention, resulting in enhanced system reliability.
Two sets of independent external reference voltage pins allow multiple ratiometric measurements. In addition, two matched programmable current sources are available in the LMP90100/LMP90098 to excite external sensors such as resistive temperature detectors and bridge sensors. Furthermore, seven GPIO pins are provided for interfacing to external LEDs and switches to simplify control across an isolation barrier.
Collectively, these features make the LMP90100/LMP90099/LMP90098/LMP90097 complete analog front-ends for low power, precision sensor applications such as temperature, pressure, strain gauge, and industrial process control. The LMP90100/LMP90099/LMP90098/LMP90097 are ensured over the extended temperature range of -40°C to +125°C and are available in a 28-pin HTSSOP package with an exposed pad.
Features
24-Bit Low Power Sigma Delta ADC
True Continuous Background Calibration at all gains
In-Place System Calibration using Expected Value programming
Low-Noise programmable gain (1x – 128x)
Continuous background open/short and out of range sensor diagnostics
8 output data rates (ODR) with single-cycle settling
2 matched excitation current sources from 100 µA to 1000 µA (LMP90100/LMP90098)
4-DIFF / 7-SE inputs (LMP90100/LMP90099)
2-DIFF / 4-SE inputs (LMP90098/LMP90097)
7 General Purpose Input/Output pins
Chopper-stabilized buffer for low offset
SPI 4/3-wire with CRC data link error detection
50 Hz to 60 Hz line rejection at ODR ≤13.42 SPS
Independent gain and ODR selection per channel
Supported by Webench Sensor AFE Designer
Automatic Channel Sequencer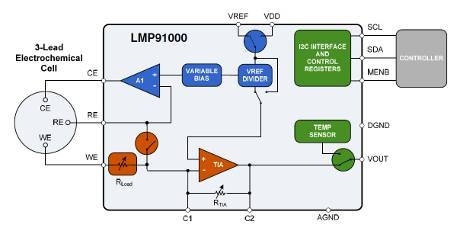 Key Specifications
ENOB/NFR Up to 21.5/19 bits
Offset Error (typ) 8.4 nV
Gain Error (typ) 7 ppm
Total Noise < 10 µV-rms
Integral Non-Linearity (INL max) ±15 ppm of FSR
Output Data Rates (ODR) 1.6775 – 214.65 SPS
Analog Voltage, VA +2.85 to +5.5 V
Operating Temp Range -40°C to 125 °C
Package 28 Pin HTSSOP exposed pad
All trademarks are the property of their respective owners. TRI-STATE is a trademark of Texas Instruments.
National semiconductor has covered most analogue sensors by introducing two signal conditioning chips.
LMP90100 is for thermocouples, variable resistance, current loop and voltage sensors, and includes a 24bit ADC.
LPM91000 is for electrochemical sensors, for example gas detectors, and feeds an external ADC.
"Sensor-based system designs are time-consuming and complicated to develop, requiring an optimal design for each system," said Anita Ganti, precision systems business director at National. "Until now, designers have developed customised analogue solutions that took weeks or even months to develop, but we can now help them get to market more quickly."
The firm has coined the phrase 'sensor AFEs' (analogue front ends) to describe the products, which are the first of a family, said Ganti.
Key to applying the devices is an on-line data base – currently holding 200 sensors – that can download appropriate setting parameter directly into associated development boards on the bench.
For more read: adds sensor Nat Semi front end ICs