Rohde & Schwarz takes its successful R&S RTO family to the next level with the all-new and redesigned R&S RTO6 oscilloscope. Featuring an updated user interface on a larger, 15.6-inch Full HD touchscreen and straightforward workflows, it speeds up daily measurement tasks. The R&S RTO6 delivers deep insights into designs on the engineer's workbench with state-of-the-art specifications such as an outstanding 9.4 ENOB, an unparalleled update rate of one million waveforms per second as well as a comprehensive toolset of analysis functions.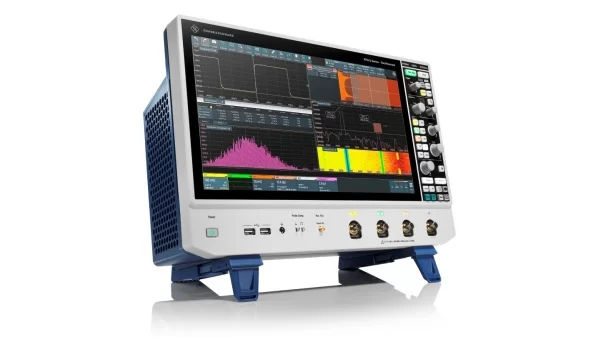 Today, Rohde & Schwarz introduces the next generation of its R&S RTO 6 GHz class oscilloscope. The new R&S RTO6 digital oscilloscope offers six different bandwidth models from 600 MHz to 6 GHz and a sample rate of up to 20 Gsample/s. The fully integrated test solution for the time and frequency domain, as well as protocol and logic analysis, supports design engineers from all industries. The instrument features a high waveform update rate, excellent signal fidelity, a uniquely powerful digital trigger and responsive deep memory.
Improved usability for instant insights
When developing the new R&S RTO6 oscilloscope, Rohde & Schwarz engineers focused on improving the oscilloscope's everyday usability. They achieved this with a newly designed user interface for increased productivity. The 15.6-inch Full HD screen, with an easy-to-use touch functionality and a redesigned front panel, enables test engineers to quickly set up measurements. The significantly larger screen can display a maximized waveform viewing area, and signals can be dragged and dropped to different parts of the screen with the tried and tested R&S SmartGrid. The app cockpit provides access to all of the oscilloscope's applications with a single tap.
State-of-the-art specifications for in-depth information
The developers of the new R&S RTO6 have implemented an architecture with a dedicated ASIC for optimized signal processing that delivers an exceptional acquisition rate of up to one million waveforms per second. This allows users to reliably detect even sporadic signal faults. A low-noise frontend and single-core A/D converters with extremely small linearity errors achieve excellent signal integrity with a spurious-free dynamic range (SFDR) of 65 dBc and an outstanding 9.4 ENOB. This allows users to capture all signal details with maximum precision.
Read more: NEW R&S RTO6 OSCILLOSCOPES FROM ROHDE & SCHWARZ DELIVER INSTANT INSIGHTS THANKS TO ENHANCED USABILITY AND PERFORMANCE