Display manufacturer and supplier, Midas Displays, has announced the introduction of a range of plug and play HDMI TFT display modules. The new displays are available in three different size and resolution options, have excellent brightness and contrast performance, and feature a fully integrated interface PCB.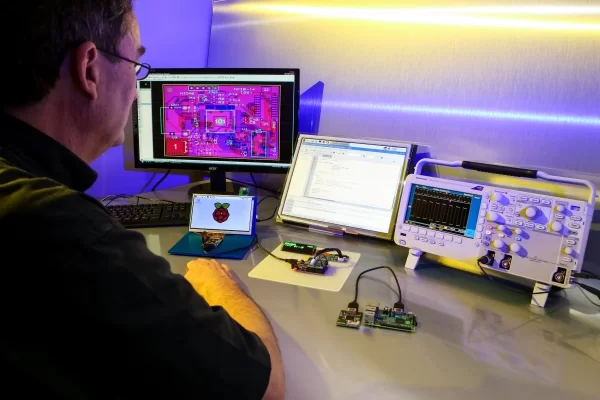 With the addition of a Raspberry Pi SBC, the Midas Displays HDMI TFT display module becomes a fully functional, easy-to-use LCD monitor. The integrated interface PCB has a 40-pin GPIO interface and a standard 19-pin type-A HDMI interface connector, enabling direct connection of a Raspberry Pi SBC. The HDMI TFT modules can also easily be used with many other single board computers. These key features enable the HDMI TFT displays to be used with any external HDMI input source.
Midas Displays also supports interconnect solutions to enable enhanced connectivity of the Raspberry Pi to the HDMI TFT display module. A bespoke HDMI to HDMI interconnect board connects the HDMI output of the Raspberry Pi to the display mounted interface PCB, and a Type-A USB to Micro-B USB cable enables touch-screen functionality to be implemented.
All three display modules feature excellent optical performance which ensure bright, clear and concise images, high brightness white LED backlights, and a 16:9 Landscape aspect ratio. The operating temperature range of -20°C to +70°C enables reliable operation in extreme temperature environments.
For applications that require a dedicated graphical user interface, capacitive and resistive touch-screen options are available for all modules.
Paul Barton, technical director, Midas Displays said,
Our new HDMI TFT display module product range has been designed and produced to meet the needs of engineers and developers in the embedded and industrial market sectors. Our key goals were to provide a simple yet versatile display solution that could be used with an external HDMI input source. The industry standard video interface HDMI, is extensively supported on single board computers, personal computers, industrial equipment and many other embedded applications. Enabling a 'plug and play' HDMI TFT display in a range of sizes and resolutions, coupled with a choice of touch-screen options, provides designers with an easy-to-use display solution that is ideal for prototyping and product development.
Read more: MIDAS DISPLAYS INTRODUCE RANGE OF HDMI TFT DISPLAYS