Pervasive Displays (PDi), a world leader in e-paper displays (EPDs), today announces the strengthening of its red tri-color EPD line-up with the launch of two new sizes of display. The 3.7-inch and wide-format 4.37-inch models can both render high-quality images and text in red, white and black.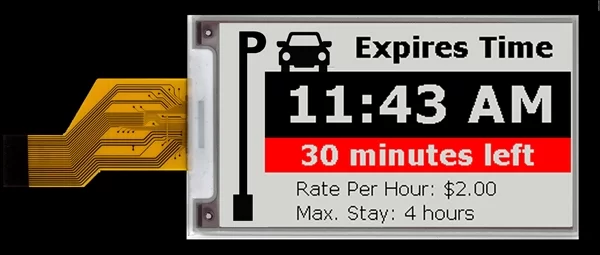 The additional size options give product and service designers more flexibility when choosing displays, typically for use cases where there is no access to mains power. Unlike conventional TFT LCDs, e-paper displays only consume energy when you change what's on the display, so maintaining a static image requires no energy at all. And because each screen update uses relatively little energy, e-paper displays can be powered using either a small battery or harvested energy.
This makes them a popular choice in a variety of applications where the contents of the display only needs updating sporadically such as logistics tags, ID and visitor badges, e-labels or IoT sensor node status screens.
With state-of-the-art driving waveform and respective pixel densities of 130 dpi (3.7-inch) and 117 dpi (4.37-inch), both can render sharp and detailed images and text. And because Pervasive Displays pre-programs key capabilities into the displays, they can be driven without consuming resource from the host controller.
Moreover, the displays' slimline footprint, enabled in part by the built-in timing controller (Tcon), gives designers more space for other components, or the ability to minimize their overall product size.
Alchin Wang, CEO, Pervasive Displays, said:
Red EPDs provide a striking contrast that helps attract people's attention and conveys critical information more quickly. Our red tri-color EPDs have been extremely popular, which is why we are expanding the range to give designers greater choice when selecting a display for their product.
And with speed-to-market a critical consideration for many customers, these displays are designed to be easy to integrate into end products, so they can be in customers' hands as quickly as possible.
Read more: PERVASIVE DISPLAYS EXPANDS ITS POPULAR RANGE OF RED TRI-COLOR E-PAPER DISPLAYS