CHANDLER, Ariz., Feb. 15, 2016 — Microchip Technology Inc. (NASDAQ: MCHP), a leading provider of microcontroller, mixed-signal, analog and Flash-IP solutions, today announced its MPLAB® Xpress Cloud-based Integrated Development Environment (IDE).  This online development platform is the easiest way to get started with PIC® microcontrollers (MCUs), with zero downloads, sign-in or setup needed to start designing.  Microchip's free, cloud-based IDE brings the most popular features of the award-winning MPLAB X IDE to Internet-connected PCs, laptops or tablets.  MPLAB Xpress offers the industry's most comprehensive feature set, including a library of Microchip-validated code examples, interface to MPLAB Code Configurator (MCC) 3.0 for GUI-based MCU peripheral setup and automatic code generation, integrated MPLAB XC compilers, support for programmer/debugger hardware, and 10 GB of secure online storage with a myMicrochip account.  Users can easily migrate their projects to the full, downloadable MPLAB X IDE.  Additionally, the MPLAB Xpress Community enables developers to share their code, design ideas and knowledge.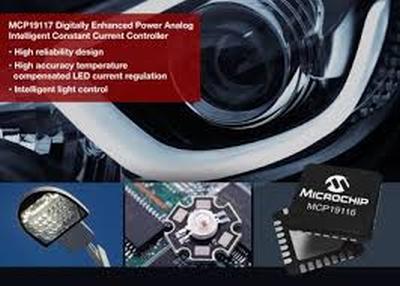 MPLAB Xpress can be accessed from anywhere in the world at http://www.microchip.com/Xpress-021516a.  A free MPLAB Xpress Evaluation Board (limited quantities available) can be obtained by filling out the form at http://www.microchip.com/Xpress-021516a, or by visiting Microchip's Embedded World booth (Hall 1: Booth 1-510).  A brief presentation is also available at http://www.microchip.com/Presentation-021516a. Cloud-based hardware development is supported by connecting any USB-enabled PC, laptop or tablet to tools such as the MPLAB Xpress Evaluation Board.  This development board features an integrated programmer, a PIC16F18855 MCU and a mikroBUS™ header for system expansion with MikroElektronika's more than 180 Click™ boards.  The MPLAB Xpress IDE also supports Microchip's Curiosity Development Board, a cost-effective tool with integrated programmer and debugger, as well as expansion options for add-on boards and external connectivity.  Additionally, this online IDE can be used with Microchip's popular PICkit™ 3 In-Circuit Debugger/Programmer, which provides programming and debugging capabilities for over 1,000 PIC MCUs.
"While it's always been easy to develop with PIC MCUs using the free MPLAB X IDE, the Web-based MPLAB Xpress reduces the installation time to zero while enabling users to build an entire application within minutes," said Derek Carlson, Microchip's vice president of Development Tools.  "Users can open a browser, quickly generate code via the integrated MPLAB Code Configurator which integrates with MPLAB Xpress—a feature not available with any other cloud-based IDE—test that code with the included simulator, compile the code, then program and debug their target MCU."
The MPLAB Xpress Community allows users to get their project started quickly, solve problems, and inspire others by sharing ideas and knowledge.  The "Examples" section provides easy, searchable access to MCU code developed and validated by Microchip engineers, such as setup, basic functions and advanced projects.  Designers can add to this knowledge base by making any of their stored projects accessible to the rest of the user community.  To facilitate further discussion and collaboration, a dedicated MPLAB Xpress User Forum and Wiki are also available.
For more detail:  Microchip Launches Free, Cloud-based Development Platform