In the Darwin family, the MAX32670 is an ultra-low power, cost-effective, high reliability 32-bit microcontroller enabling designs with complex sensor processing without compromising battery life. It combines a flexible and versatile power management unit with the powerful Arm® Cortex®-M4 processor with floating point unit (FPU). The MAX32670 also offers legacy designs an easy and cost optimal upgrade path from 8- or 16-bit microcontrollers.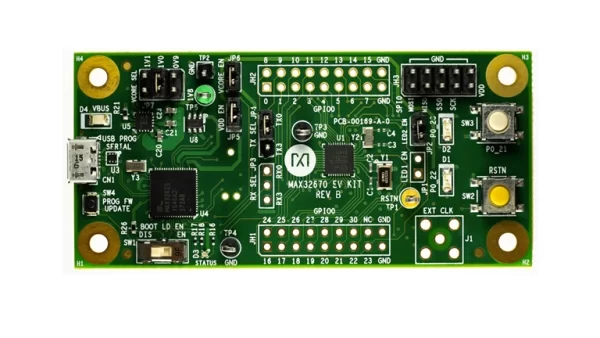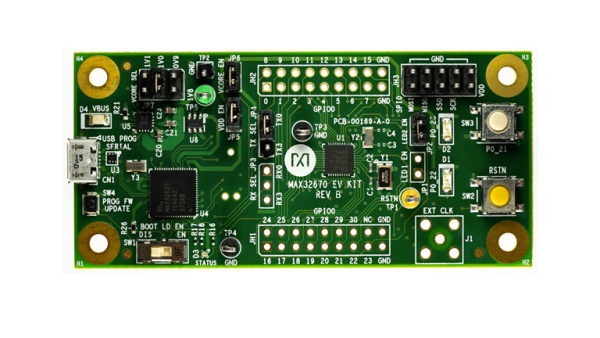 The device integrates up to 384KB of flash and 160KB of SRAM to accommodate application and sensor code. error correction coding (ECC), capable of single error correction and double error detection (SEC-DED), is implemented over the entire flash, RAM, and cache to ensure ultra-reliable code execution for demanding applications. Additional features such as the two windowed watchdog timers with fully flexible and independent clocking have been added to further enhance reliable operation. Brownout detection ensures proper operation during power-down and power-up events and unexpected supply transients.
Multiple high-speed peripherals such as 3.4MHz I²C, 50MHz SPI, and 4MBAUD UARTs are included to maximize communication bandwidth. In addition, a low-power UART is available for operation in the lowest power sleep modes to facilitate wakeup on activity without any loss of data. A total of six timers with I/O capability are provided, including two low-power timers to enable pulse counting, capture/compare and PWM generation even in the lowest power sleep modes. The device packs all this capability in tiny form factors: 5mm x 5mm 40-pin TQFN-EP and 1.7mm x 2.2mm 24-bump WLP packages.
Read more: MAX32670 – HIGH RELIABILITY, ULTRA-LOW POWER MICROCONTROLLER POWERED BY ARM CORTEX M4 PROCESSOR