Details
• The world's first lab device to target OS X, Linux, Windows, Android and iOS (jailbroken) compatibility.
• Get mobile: take the SmartScope on the road, thanks to the single-cable connectivity.
• Intuitive: pointing, pinching and swiping finally replaces the clunky interfaces of old scopes.
• Develop your digital interfaces using the 100MS/s logic analyzer.
• Design any signal you want using Excel, then upload it to the built-in Arbitrary Waveform Generator (AWG).
• Capture the voltage at any point of your design at 100 million times each second.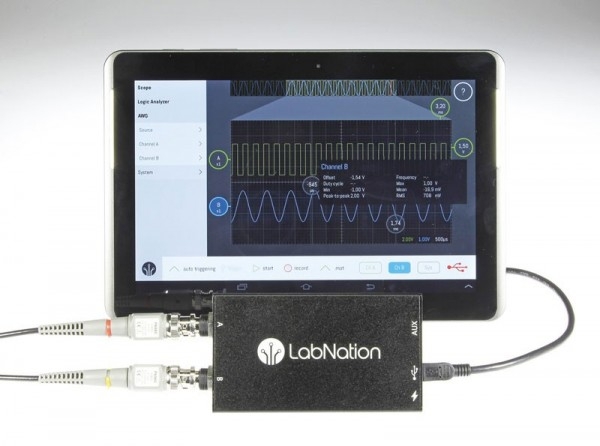 Connectivity
• Device: Host
• mini USBcable (included)
• Analog: BNC2 probes (included)
• Digital: 80,1″ pitch, probes (included)
• Sync: USB micro B-B
• Power: USB micro B (optional)
Oscilloscope
• Bandwidth: 45 MHz (-3dB point)
• Sample rate: 2 x 100 MS/s
• Channels: 2
• Max pre-trigger position: 16 x full scale
• Max post-trigger position: Full scale
• Max full voltage scale: 10V/div (±35V input range)
• Min full voltage scale: 20mV/div
• Analog input range: -35V, +35V
• Max input peak-to-peak: 40V
• Signal coupling: AC / DC
• Precision: 8 bit
• Input impedance: 1 MOhm // 10 pF
• Waverforms: 200 waveforms/s
• Data delay to host: < 10ms
• Sample depth: Up to 4 million samples per channel
• External trigger: Yes
Logic analyser
• Input channels: 8
• Input impedance: 100kOhm // 2pF to GND
• Sample rate: 100 MS/s
• Logic level: 3,3 V or 5 V
• Diode protection: Bidirectional
• Input data buffer: 4M samples
• Waverforms: 200 waveforms/s
• Data delay to host: < 10ms
• Protocol decoders: I²C, SPI, …
Wave generator
• Data rate: 50 MS/s
• Output level: 0 – 3,3 V (Opamp driven)
• Max slew rate: 30ns/V
• Step: 13 mV
• Output channels: 1
• Sample depth: 2048
For more detail: LabNation SmartScope: unique multi-platform USB oscilloscope