Dual Cortex-A7 and Cortex-M4 integrated – graphics, communication and real-time control on one chip – evaluation board available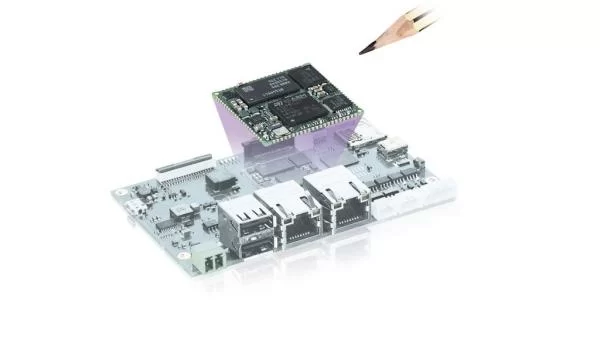 Kontron, a leading global provider of IoT/Embedded Computing Technology (ECT), is one of the first companies to introduce a System-on-Module (SOM) based on the brand-new STM32MP157 processor by STMicroelectronics. By the Dual Cortex-A7 and the Cortex-M4 processors' three cores in one chip, the module – with dimensions of only 1 inch x 1 inch (25.4 x 25.4 mm) – achieves maximum performance in terms of visualization and computing power. In addition, it offers extensive interfaces that are predestined for applications in industry, automation, medical technology, POS/POI applications as well as IoT and Industry 4.0. Its compact design is ideally suited for a wide range of baseboard designs. Kontron has already provided a corresponding evaluation board in the 4.3-inch form factor as a reference design.
SOM-STM32MP157 Specifications
CPU STM32MP157 (2x Cortex A7, 1x Cortex M4)
DDR3-RAM 256/512 Mbyte, NAND-Flash 256/512 Mbyte
Ethernet, USB, Serial, CAN, I/O, SDIO,i²C, SPI, PWM, LCD
The new STM32MP157 processor from STMicroelectronics offers sufficient computing and graphics power for demanding visualization and internet communication applications as well as for control tasks within mechanical engineering and equipment technology. Based on a pre-installed embedded Linux operating system, the Cortex-A7 Dual Core handles complex visualization tasks, including the display of web content. In this context, touch displays and wireless technologies are also supported, as they are mainly used in IoT solutions. The integrated Cortex-M4 offers proven microcontroller technology with a multitude of interfaces for industrial measuring and control technology.
The System-on-Module based on the STM32MP157 processor provides a powerful, compact and cost-effective basis for individual board designs. As it is a solderable module, the costs for connectors on the SOM module and the baseboard below are omitted. The module's long-term availability is provided for a period of ten years.
Read more: KONTRON PRESENTS SOM BASED ON THE NEW STM32MP157 BY STMICROELECTRONICS