KHADAS VIM3 AMLOGIC S922X BOARD TO SUPPORT M.2 NVME SSD, WIFI 5, AND BLUETOOTH 5 CONNECTIVITY
The VIM3 SBC is the latest iteration of the popular Khadas VIM series, that will be equipped with the new Amlogic S922X SoC. It is designed with the same form-factor as our popular VIM2 and VIM1, with up to 4GB of LPDDR4/4X RAM and 32GB of EMMC storage; this makes it compatible with existing accessories.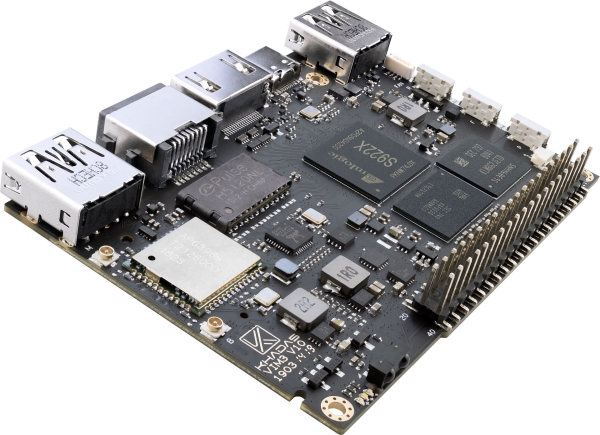 3 models of VIM3 are planned for release, however specifications for only the first model are available at this time. They will announce the exact launch date, and information about the other models in email updates.
Khadas VIM3 Preliminary Specifications:
SoC – Amlogic S922X hexa-core processor with 4x Arm Cortex-A73 and 2x Cortex A53 cores, Arm Mali-G52 MP4 GPU, built-in Cortex-M4 core for "always-on" processing
MCU – STMicro STM8S003 with Programmable EEPROM for power management, customizations, and boot media configuration
System Memory & StorageVIM3 Basic – 2GB LPDDR4/4X RAM, 16GB eMMC 5.1 flash
VIM3 Pro – 4GB LPDDR4/4X RAM, 32GB eMMC 5.1 flash
Common – 16MB SPI flash, microSD card slot supporting up to UHS-I SDR104, support for M.2 2280 NVMe SSD (see Expansion section)
Video Output & Display InterfaceHDMI2.1 transmitter with 3D, Dynamic HDR, CEC, and HDCP 2.2 support
4-lane MIPI-DSI interface up to 1920 x 1080
10-pin 0.5mm Pitch FPC Connector for touch panel
Video4K UHD H.265 75fps 10-bit video decoder & low latency 1080p H.265 / H.264 60fps decoder
Supports multi-video decoding up to [email protected] + [email protected]
Dolby Vision and HDR10, HDR10+, HLG, and PRIME HDR video processing
ConnectivityGigabit Ethernet with WoL support
802.11a/b/g/n/ac WiFI 5, 2X2 MIMO with RSDB and Bluetooth 5.0 via Ampak AP6398S module
USB – 2x USB 3.0 ports, 1x USB 2.0 OTG port with USB PD support
Sensor – KXTJ3-1057 3-axis digital accelerometer
ExpansionM.2 Socket with single lane PCIe 2.0, USB 2.0, I2S, I2C, ADC, 100M Ethernet PHY interface, GPIO, MCU_PA2
40-pins 2.54mm pitch header exposing:CPU signals – USB, I2C, I2S, SPDIF, UART, PWM, ADC
MCU signals – SWIM, NRST, PA1
Misc – 2x IR receivers, RTC & battery header, 4-pin cooling fan header with PWM speed control, 3x LED's, power, Func and reset buttons, XPWR pads for an external power button
Power Supply – 5V to 20V via USB-C port or pogo pads
Dimensions – 82.0 x 58.0 x 11.5 mm (4x M2 mounting holes)
Weight – Around 30 grams
Certifications – CE, RoHS
Read more: KHADAS VIM3 AMLOGIC S922X BOARD TO SUPPORT M.2 NVME SSD, WIFI 5, AND BLUETOOTH 5 CONNECTIVITY
Current Project / Post can also be found using:
Project Ratings:
Related posts
Leave a Comment