1BitSquared has launched a crowdfunding campaign for a highly capable and extremely flexible open source multi-tool called Glasgow Interface Explorer.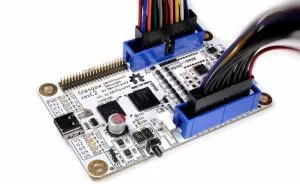 Glasgow Interface Explorer for digital electronics is powered by Lattice Semi iCE40 FPGA and created for hardware developers, electronics hobbyists, engineers, tinkerers, and anyone else who wants to communicate with a wide selection of digital devices with minimum hassle.
The board aims to offer a broad selection of capabilities with more than "some wires and, depending on the device under test, external power." You can attach it to devices without any need for extra active or passive components.
Some of its Key Features and Specifications include: 
iCE40HX8K Lattice Semiconductor FPGA
1x USB-C port connected to FX2 high-speed USB interface; 480 Mbps throughput
2x 8-channel GPIO banks, each with:

A dedicated programmable linear voltage regulator, configurable from 1.8 – 5V with up to 150 mA of power
A dedicated sense ADC capable of monitoring the GPIO bank voltage and current, with interrupt trigger thresholds that can be set

16 highly flexible GPIOs, each with:

A peak frequency of 100MHz
A dedicated level shifter with individual direction control, and,
An independent, software-controlled 10K Ohm resistor Pull-Up/-Down resistor

ESD protection diodes for all GPIOs
Set of 14x differential pair I/O, connected directly to the FPGA (optional); can be used for high speed interfaces
Up to 5x User-controlled LEDs
Up to 5x Status LEDs, and,
1x Dedicated SYNC connector
Read more: GLASGOW INTERFACE EXPLORER IS A HARDWARE DEBUGGING TOOL FOR DIGITAL ELECTRONICS