AAEON, a major developer of industrial computing solutions, is releasing a Display Box Kit to work in conjunction with its successful OMNI Series. The new kit builds on the series' modular design and allows users and distributors to quickly convert panel PCs into digital displays and vice-versa. In addition to connecting Display Box Kits to existing Panel Kits, customers can also buy complete OMNI Display units.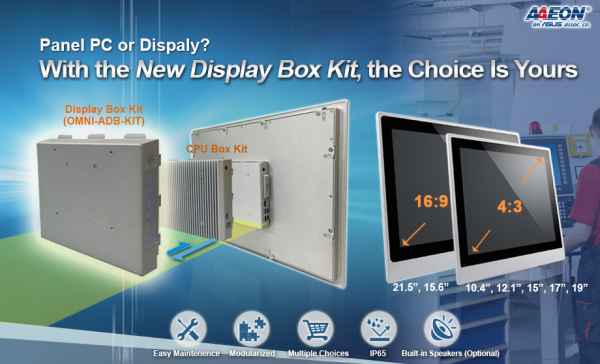 The OMNI Display Series includes panels in seven different sizes, ranging from 10.4" to 21.5". They are all fitted with Full HD LCD displays and customers can choose between PCAP and resistive touchscreen models. Stylish and robust, the panels are finished with an IP65 aluminum front bezel and feature a variety of power protections. They offer a 12V~30V DC power input range, OVP, UVP, OCP, and reverse power protection, and customers can also choose between terminal block and power jack connections. The panels' rugged versatility is increased by their -10 oC~55 oC operating temperature range.
AAEON's commitment to user-friendly design means the new Display Box Kit only takes minutes to install, as just three screws are used to fasten the kit – and the alternative CPU Box Kit – to the display panel. The new product gives users access to both VGA and HDMI video interfaces, and a USB port enables connection to a PC, and built in speakers are available as an option.
"By developing a product series with interchangeable modules, AAEON is working to streamline the manufacturing and distribution process and make it easier for customers to get the equipment they need, when they need it," said AAEON system platform division product manager Raven Hsu.
Read more: Display kit turns panel PCs into fully featured digital displays