A few weeks ago Open Electronics announced their new "Fishino Piranha" board. It is one of the first boards to imitate the Arduino MKR. The Fishino Piranha follows with the release of their Uno-inspired "Fishino 32" board, which was released at the start of last year.
The Piranha has the same 32-bit Microchip PIC32MX as the previous board with a MIPS core clocked at 120MHz. It comes with 128 kB RAM and 512 kB Flash memory and has the same form factor as the new Arduino MKR boards. The layout of the Piranha's headers is more or less identical to that of MKR1000. Only with the exception of the analog output (DAC). There is no DAC present on the PIC32MX processor used here in this board.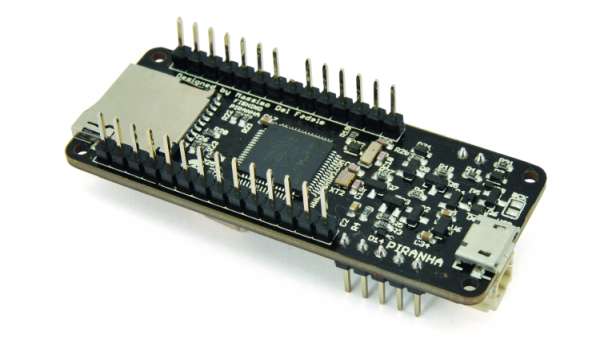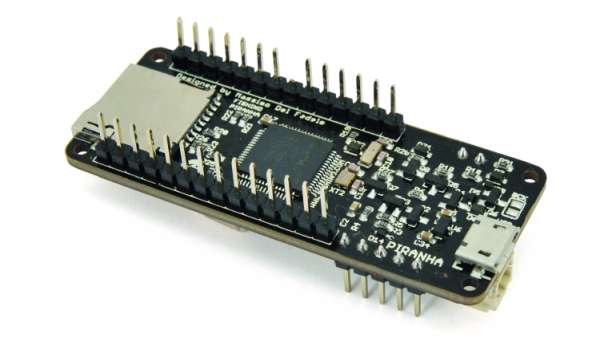 The Piranha also has native USB support, both host and client, an RTC, MicroSD card slot, and Wi-Fi onboard provided using an ESP8266 module. The board is designed to be powered from the micro-USB socket, or through the external power source. Otherwise with a battery charger, based on the Microchip MCP73831, for the LiPo built-in. While the board uses 3.3V internal logic, the pins are tolerant up to 5V. Thus considering no risk of damaging the board with 5V peripherals.
The board is fully Arduino-compatible and can be developed either using the FishIDE, which Open Electronics has created as an alternative to the traditional Arduino IDE, or directly from the Arduino development environment as usual.
Highlighted features of the Fishino Piranha:
High-performance PIC32MX controller
high performance, with 120 MHz clocks, 512 KBytes flash and 128 KBytes RAM
WiFi module on board
MicroSD card reader on board
RTC module on board
High performance switching power supply
Can be powered by a single cell LiPo battery, with onboard charger
Can be powered off by software and awaken by external events
Pinout and size compatible with Arduino MKR1000