T31SN series of 1/32 Brick, 9~53V input, single output, non-isolated DC/DC converters, are the latest offering from a world leader in power systems technology and manufacturing ― Delta Electronics, Inc.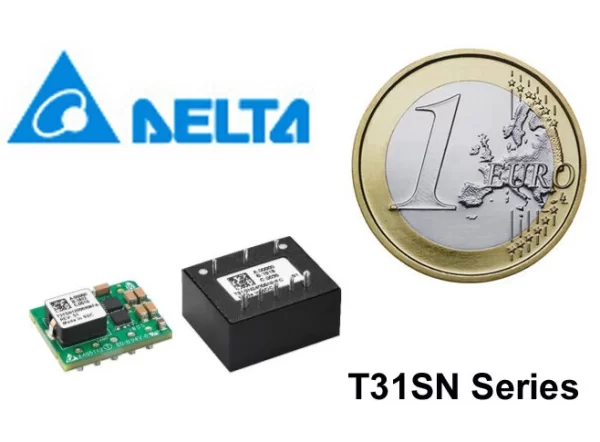 This product family provides up to 100 watts of power or 8A of output current. With creative design technology and optimisation of component placement, these converters possess outstanding electrical and thermal performance, as well as extremely high reliability under highly stressful operating conditions. Peak efficiency of the module is up to 98.0%.
The modules operate on an input voltage of 9 to 53V with trimmable outputs of between 3.3V to 16.5V and 5V to 30V
As you would expect it meets the latest safety standards of IEC/EN/UL/CSA 62368-1,2nd edition.
Options Available Include:
Negative or Positive Remote On/Off
Power Good Signals
Through hole pins or SMD pins
Open frame or Potted version in a standard or flanged case
The datasheets include application notes on the implementation of the Power Good signals, output voltage adjustment trimming along with many suggestions regarding production set up.
Features
High efficiency: 98.0%
Industry standard 1/32nd brick form factor
Fixed frequency operation
Thermal limit, Input UVLO
Output OCP Hiccup mode
Output voltage trim range: 3.3V to 16.5V, & 5V~30V
Output Remote sense
Monotonic start up into normal
No minimum load requirement
Working altitude to 5000m
Read more: DELTA T31SN 100W DC/DC FAMILY IN COMPACT 1/32 BRICK FORMAT