Cypress expands energy-efficient line of nonvolatile RAMs
Cypress Semiconductor is sampling a 4-Mbit ferroelectric RAM (F-RAM), which is one of the industry's highest density serial F-RAMs, featuring a 40-MHz serial peripheral interface (SPI) and a 2.0-V to 3.6-V operating voltage range. F-RAMs consume 200 times less energy than serial EEPROMs and 3000 times less energy than NOR flash devices. Further, Cypress F-RAMs are able to endure 100 trillion read/write cycles and provide 10-year data retention at 85°C and 151 years at 65°C.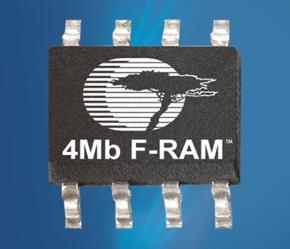 These energy-efficient memory devices are useful for applications requiring continuous and frequent high-speed reading and writing of data with absolute data security. The 4-Mbit F-RAM devices address mission-critical applications, such as industrial controls and automation, industrial metering, multifunction printers, test and measurement equipment, and medical wearables.
For more detail: Cypress expands energy-efficient line of nonvolatile RAMs
Project Ratings:
Related posts
Leave a Comment