Avnet Integrated Presents Scalable, Cost-Efficient SMARC 2.0 Module Family With I.MX 8M Mini Processors From NXP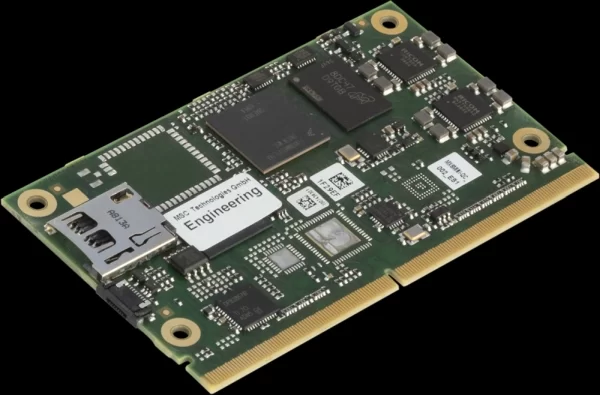 Avnet Integrated presents a new, cost-efficient MSC SM2S-IMX8MINI SMARC 2.0™ module, which is based on i.MX 8M Mini processors from NXP™. The multicore ARM® Cortex-A53 processors are built using NXP's 14nm FinFET process technology, providing high compute performance at very low power consumption. With the standardized MSC SM2S-IMX8MINI compact SMARC 2.0™ module family and the appropriate starter kit, the new processor technology is easily and quickly available for innovative customer applications. The extremely versatile module family may be used in any general purpose industrial, IoT, building automation and media streaming application.
The MSC SM2S-IMX8MINI SMARC 2.0 module features high scalability and can be equipped with different single-, dual- or quad-core processor types. The flexibility of the new module family is comparable to the scalability of the i.MX 6 predecessor products. However, these modules offer significantly higher compute performance due to 64-bit support and fast LPDDR4 memory. The SM2S-IMX8MINI modules are designed not only for the new Mini processors, but also for the future pin-compatible Nano processors from NXP.
The new Computer-On-Modules (COMs), based on NXP's powerful i.MX 8 processor family ‒ consisting of the i.MX 8, i.MX 8M and i.MX 8M Mini variants ‒ are suitable for embedded applications that requirethe highest degree of performance combined with high energy efficiency. Avnet Integrated will offer the complete i.MX 8 processor family on the persistent and future-proof SMARC 2.0™ and Qseven™ module form factors and further strengthen its leading position as a manufacturer of innovative embedded modules. In addition to providing hardware manufactured in Germany, extensive development tools such as starter kits and board support packages as well as personalized services including design-in support and carrier design review are offered.
MSC SM2S-IMX8MINI
The MSC SM2S-IMX8MINI module features NXP's i.MX 8M Mini processors that are based on latest 14nm FinFET technology to allow high computing and graphics performance at very low power consumption combined with a high degree of functional integration.
Read more: CUSTOMIZABLE SMARC MODULE RUNS LINUX ON I.MX8M MINI OR NANO