Broadcom's BCM4389 chip is a client-side device supporting Wi-Fi 6E and Bluetooth 5 combo dedicated to mobile handset applications. The Wi-Fi 6E technology can operate on the 6 GHz band with 160MHz wide channels which is a progressive version of the Wi-Fi 6 technology. Hence, it enables speeds over 2 Gbps for faster communications than the Wi-Fi 6 that supports from 2.4GHz to 5GHz radio bands.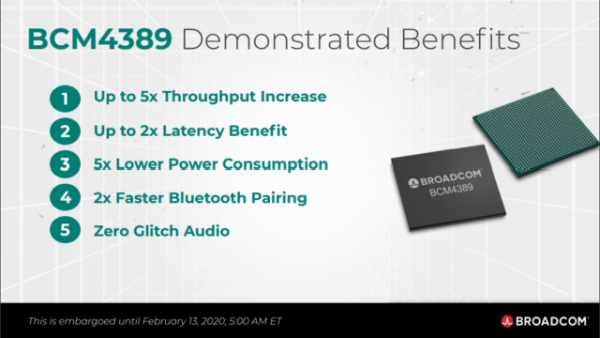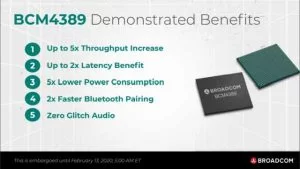 The BCM4389 chip is a low-power design with multi-radio Bluetooth 5 architecture compatible for BT Xstream Dual Bluetooth and Tri-Band Simultaneous (TBS) connectivity that enhances the Wi-Fi and Bluetooth functionalities for optimized battery utilization. The chip features low power consumption and small solution size. Hence, making it suitable for mobile applications with high performance and low latency requirements.
Broadcom's BCM4389 will power the world's first Wi-Fi 6E smartphone that is Samsung Galaxy S21 Ultra. The phone comes with the BCM4389 chip featuring a glitch-free audio experience and enhanced location accuracy. The chip comes with a power management unit that eases the system power topology. This supports the direct operation from a mobile platform battery, hence maximizing the battery life.
Key Features Of BCM4389 Chip
Seven Wi-Fi and Bluetooth radios
Support for 2 streams of Wi-Fi 6E
Multi-Radio Bluetooth 5 with antenna beamforming
Tri-Band Simultaneous (TBS) architecture including a dedicated background scan radio for Wi-Fi and Bluetooth
Simultaneous dual-band operation
2.63 Gbps PHY rate
Operation in 2.4 GHz and 5.1-7.125 GHz unlicensed bands
160 MHz channel bandwidth
1024-QAM modulation
OFDMA
MU-MIMO
Read more: BROADCOM'S BCM4389 CHIP WITH WI-FI 6E TECHNOLOGY AND BLUETOOTH 5