ARM launches IP suite for 2016 mobile devices
ARM has brought out a set of IP for top-of-the-range  mobile devices due to launch next year.
The IP suite includes: an ARMv8-A-based Cortex-A72 processor, an ARM CoreLin CCI-500 Cache Coherent Interconnect and an ARM Mali-T880 GPU delivering up to 4K120fps performance and console-class gaming, all optimised for TSMC's 16nm FinFET+ process with ARM POP IP.
"Our new premium mobile experience IP suite with the Cortex-A72 processor delivers a decisive step forward from the compelling user experiences provided by this year's Cortex-A57 based devices," says ARM executive v-p Pete Hutton.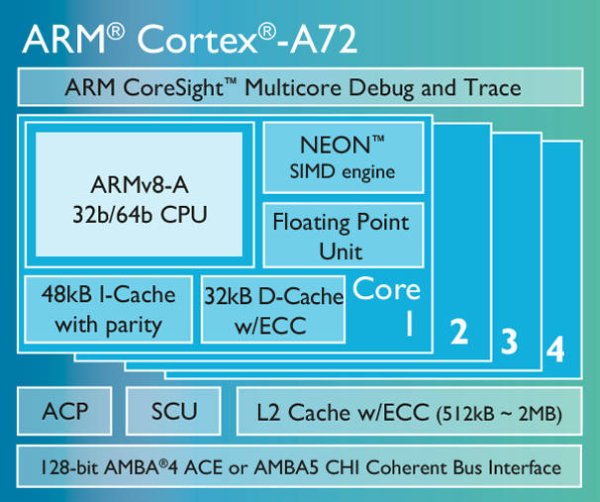 The suite allows natural language user interfaces to run natively on a smartphone.
More than ten partners, including HiSilicon, MediaTek and Rockchip, have already licensed the Cortex-A72 processor which delivers: sustained operation at frequencies of 2.5GHz scalable to higher frequencies for deployment in larger form factor devices; 3.5x the performance of 2014 devices based on the Cortex-A15 processor: a 75% reduction in energy consumption compared to 2014 devices; extended performance and efficiency when the Cortex-A72 CPU is combined with a Cortex-A53 CPU in ARM big.LITTLE processor configurations.
The CoreLink CCI-500 Cache Coherent Interconnect enables big.LITTLE processing and delivers system power savings thanks to an integrated snoop filter. CoreLink CCI-500 delivers double the peak memory system bandwidth and offers a 30% increase in processor memory performance compared to the previous generation CoreLink CCI-400.
This enables more responsive user interfaces and accelerates memory intensive workloads such as productivity applications, video editing and multi-tasking. CoreLink CCI-500 fully supports ARM TrustZone technology for a secure media path enabling protection of multimedia content when used with the Mali product family.
The Mali-T880 GPU delivers 1.8X the graphics performance of today's Mali-T760 based devices and a 40% reduction in energy consumption across identical workloads. The Mali-T880 enables high-end, complex use cases to be enjoyed on power-constrained mobile and consumer platforms with its advances in energy efficiency, additional arithmetic capabilities and scalability.
For more detail: ARM launches IP suite for 2016 mobile devices
Project Ratings:
Related posts
Leave a Comment