A digital multimeter is an electronics measurement tool which is a necessary and powerful tool for every hacker, engineer, and maker. It can be used as a voltmeter, ohmmeter, ammeter, continuity meter, and some even offer more features than this. At the hand of a creative hacker, it might just be the only debugging or measurement tool you might need if you lay your hands on the right one.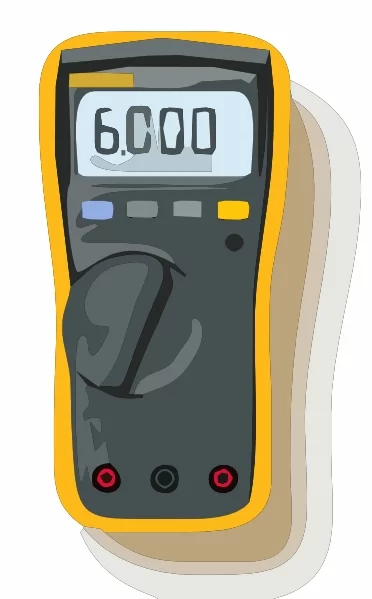 With a multimeter, you can understand what is happening in your electronic circuit board, or figure out how your spaghetti wiring is really connected with a continuity test.  Their use is unbounded and is limited to the quality of the meter you have and your own experience.
What Multimeter Should I Use?
One of the questions that usually pop-ups to upcoming makers or someone trying to get a new meter is which meter I should buy? There are quite a wide variety of multimeters out there with different functionalities and accuracy. At the minimum, it is expected your meter should be able to provide the below basic functionality:
Measure Voltage (DC and AC)
Measure Current (DC and AC)
Measure Resistance
Able to test for continuity
After you have decided what meter to buy, the next thing you will look into is how to actually use it. A typical multimeter is shown above. The Selection Knob is one of the essential parts of most meters, and it is used to select what you want to measure. Depending on your experience with using multimeters, you might have a hard time knowing how to choose what you want. Selecting the wrong option might destroy your meter, waste your valuable time, or add to your debugging frustration only to find out you are using the wrong setting. The APEXEL ET8103 is a smart meter that removes those challenges and makes you focus on the most thing instead of figuring out what setting to put the knob.
Read more: APEXEL ET8103 IS AN INTELLIGENT DIGITAL MULTIMETER WITH NO KNOB