AMS uses 3D chip technology for smartphone sensors
Description
The AS3721 is a compact System PMU supporting up to 20 high current rails. The device offers advanced power management functions. All necessary ICs and peripherals in a battery powered mobilde device are supplied by the AS3721. It features 4 DCDC buck converters as well as 12 low noise LDOs. The different regulated supply voltages are programmable via the serial control interface. 3-4MHz operating with 1 uH coils is reducing cost and PCB space.
AS3721 further features 3 DCDC buck controller which are ideal to support processor currents ranging from 5A up to 20A. The multi-phase topology operating on 3MHz ensures fast load transient responses and reduces the footprint for external components.
The single supply voltage may vary from 2.7V to 5.5V.
Key Features
4 DCDC step down regulators (3-4 MHz)
3 DCDC step down controller
12 universal LDOs
RTC
Supervisor with interrupt generation and selectable warning levels
General Purpose IOs
ADC with intern and external sources
OTP programmable Boot and Power-down sequence
Stand-by function with programmable sequence and voltages
Control Interface
Package:124-pin CTBGA (8x8mm), 0.5mm pitch
Applications
The device is suitable for Tablet PCs, NetBooks, portable media players, portable navigation devices, and mobile internet devices.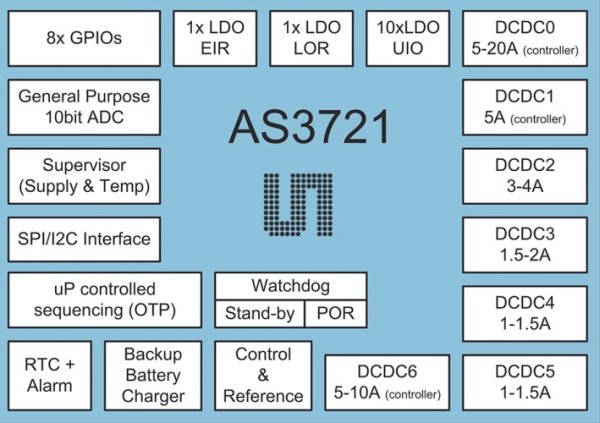 Austrian chip maker ams is applying through-silicon via (TSV) 3D IC fabrication technology to its ambient light sensor devices.
TSV technology is being used to interconnect stacked wafers in FPGAs and memory chips and ams believes it can apply the technology to analogue sensors to very small wafer scale packages.
"We have been developing the TSV capability and expect to be in production with first sensors in the middle of the year," said Thomas Riener, senior v-p marketing communications at ams.
The company is planning to develop more highly integrated and smaller ambient light sensors for use in smartphones and cameras.
After the acquisition of US-based light sensor firm TAOS in 2011, supplying sensors to smartphone manufacturers has become an important business for the Graz-based manufacturer.
"We have 40% market share in ambient light sensors in smartphones, "claimed Riener.
As a result the firm has doubled revenues in the last three years and sensor devices, standard products and Asics, make up 70% of sales for ams.
The mixed-signal company has also developed NFC and RFID "signal booster" devices for use in smartphones.
"These will be revenue driver this year and beyond, we already have a high number of design-ins," said Riener.
The company also supplies an interface chip to MEMS microphone supplier Knowles. "
The company designs chip in the US and Europe, but all manufacturing is in Austria.
"Manufacturing is very important for us and we believe in retaining all critical production technologies," said Riener.
"We believe analogue chip production is critical to Europe and the engineering talent is here," said Riener.
Also important to ams is a new power management IC (PMIC) it originally designed as an Asic for Nvidia for its Tegra smartphone processor.
For more read: AMS uses 3D chip technology for smartphone sensors
Project Ratings:
Related posts