Advantech, a leading IoT solutions provider and Microsoft EEAP (Ecosystem Engineering Access Program) partner, has received early access to next test release of Windows 10 Enterprise. Microsoft is continuing to push Windows 10 IoT Enterprise forward at a rapid pace, with substantial changes expected toward the second half of 2021, including footprint reduction, silicon support expansion, and the integration of Linux modules. As a key embedded partner of Microsoft, Advantech has early access to the next test release.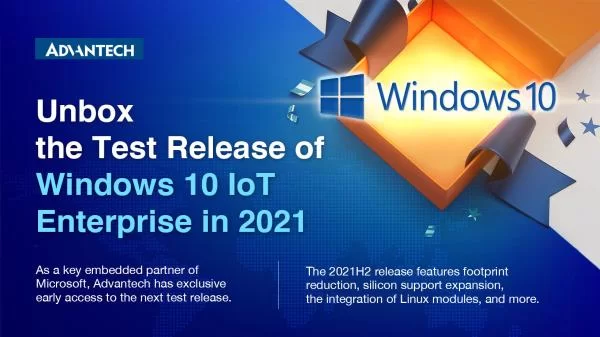 Advantech is uniquely positioned as the one-stop-shopping partner to provide comprehensive services built around Windows 10 IoT Enterprise to the ecosystem. Those interested in this coming release for industrial computing devices are encouraged to contact Advantech for more details.
Windows 10 IoT Enterprise LTSC releases are long-term supported versions of Windows that are released every two to three years. Users typically receive security-specific updates for 10 years by design. Excluding unnecessary feature updates is critical in many vertical domains because it minimizes the production impact of embedded systems. Since the most recent release for LTSC in 2018, Microsoft has continued to invest in expanding the capabilities of Windows 10 IoT Enterprise.
Reducing Footprint  
Windows 10 IoT Enterprise unleashes the full power of Windows 10 Enterprise for use in vertical-specific embedded systems, such as those used in kiosks, retail POS systems, smart gateways, robotics, and many other types of devices. Microsoft continues to enhance its features and help OEMs with optimizing embedded IoT image and footprint needs. In a nutshell, Windows 10 IoT Enterprise strikes an elegant balance between having a lightweight image and small footprint with powerful Windows capabilities.
NXP i.MX8 Support  
With the next release, Microsoft is planning to make Windows 10 IoT Enterprise to be available on NXP's i.MX8 processors in addition to the existing support for Intel, AMD, and Qualcomm processors. NXP is a leading silicon choice for IoT solutions across many verticals. The integration of i.MX8 and Windows 10 IoT Enterprise is exciting in many ways. Being part of the EEAP Microsoft partner program, Advantech is privileged to test a private preview on ROM-5720 and start to have an early experience of Windows on ARM (WoA). If you are curious about the combination of these two products, contact Advantech for further experience.
Convergence of Windows 10 IoT Core and Windows 10 IoT Enterprise 
Going forward, partners with Windows 10 IoT Core deployments on x64 and ARM64 silicon will be expected to move to Windows 10 IoT Enterprise. For customers interested in migrating from Windows 10 IoT Core to Windows 10 IoT Enterprise, now is the time to contact Advantech for migration services and support.
Read more: ADVANTECH RECEIVES EARLY ACCESS TO NEXT RELEASE OF WINDOWS 10 ENTERPRISE