The MYS-8MMX Single Board Computer has a compact design with only 95mm by 65mm form factor. It is powered by NXP's first embedded multicore applications processor i.MX 8M Mini which features up to 1.8GHz quad-core ARM Cortex-A53 plus 400MHz Cortex-M4 processor, combining advanced 14LPC FinFET process technology to provide more speed and improved power efficiency.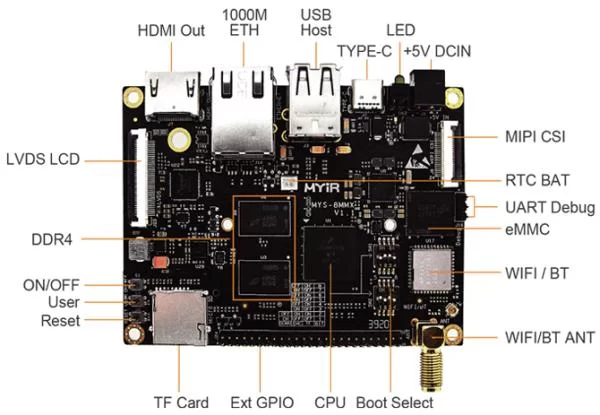 The tiny board takes full features of the processor and is equipped with 2GB DDR4, 8GB eMMC and 32MB QSPI Flash. It has explored rich peripheral interfaces through headers and connectors including two USB 2.0 Host, one USB OTG, one Gigabit Ethernet, TF card, M.2 interface, LVDS LCD interface, MIPI CSI interface, HDMI output, IO expansion interface and more others. The AP6256 WiFi/BT module on the board also allows wireless communications with other devices.
The MYS-8MMX board is capable of running Linux operating system based on the Yocto 3.0 or Ubuntu 18.04 . MYIR provides software resources including kernel and driver source code, together with detailed user manual, schematic documentations to help customer start their development rapidly.
The MYS-8MMX SBC can be used as a System-on-Module (SOM) for your next embedded design. It can be also used directly for your system integration with your created applications. It can support wide working temperature ranging from -40 to 85 Celsius. With advanced video and graphics capabilities on a single board, the MYS-8MMX provides a low-power and high-performance solution for embedded applications in areas of consumer electronics, industrial automation, smart healthcare, security monitoring, etc.
MYIR also provides a high-quality aluminum enclosure to house the MYS-8MMX Single Board Computer, which is called
MYS-8MMX Box. Inside of the enclosure, the MYS-8MMX board is installed with a heat-sink. The Box effectively protects against external interference and gives the product a more elegant appearance. This enables the product to be used in various industries and fields.
Features
Mechanical Parameters
Dimensions: 95mm x 69mm (MYS-8MMX Board), 147mm (L, including ears) x 71mm (W) x 35.4mm (H) (MYS-8MMX Box)
PCB Layers: 8-layer design
Power supply: +5V/2A
Working temperature: 0~70 Celsius (commercial grade) or -40~85 Celsius (industrial grade)
Processor
NXP i.MX 8M Mini Processor
– 1.8 GHz Quad-core ARM Cortex-A53 CPU (MIMX8MM6DVTLZAA, commercial grade) /
1.6 GHz Quad-core ARM Cortex-A53 CPU (MIMX8MM6CVTKZAA, industrial grade)
– 400MHz Real-time ARM Cortex-M4 co-processor
– Integrated 2D/3D GPU and 1080p VPU
Read more: LOW-COST I.MX 8M MINI SBC WITH ADVANCED VIDEO AND GRAPHICS CAPABILITIES