Acconeer's Low-power radar module with a solderable design features a land grid array for connection to a host PCB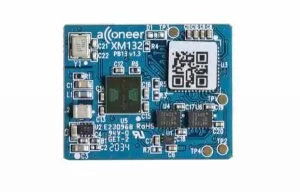 Acconeer's XM132 entry module is a low-power radar module with a solderable design featuring a land grid array for connection to a host PCB. This entry module integrates the A111 pulsed coherent radar with a 32-bit 64 MHz Arm® Cortex® M0+ MCU, the STM32G071CBU6 from STMicroelectronics with 128 KB of Flash memory and 36 KB of RAM. The module supports a single supply operating voltage range from 1.8 V to 3.6 V.
The XM132 entry module is an integration-ready module intended to be used for evaluation and development purposes as well as for integration into commercial products. With software adapted for specific use cases, cost and time-to-market are streamlined.
The XM132 can be used as a stand-alone module where customers can embed their application on top of the Acconeer RSS (radar system software) using the RSS API (application programming interface). It can also be used with an external host controller where communication to the module is via a register command protocol using one of the following interfaces: UART, I2C, and GPIO. The Acconeer RSS including a software development kit (SDK) for stand-alone usage is available for download to the XM132 via the Acconeer web page. An exploration tool that helps visualize the radar measurement results can also be downloaded.
To quickly get the XM132 up and running, use the evaluation board XE132, which has the XM132 entry module soldered to it. The XE132 has support for UART communication over USB, which enables a straight-forward way to flash and debug the module, as well as easy access to all interfaces from the XM132 module via pin-headers.
Read more: ACCONEER'S LOW-POWER XM132/XE132 ENTRY RADAR MODULE WITH A SOLDERABLE DESIGN FEATURES