LAPIS Semiconductor, a ROHM Group Company, has recently announced the development of a low power microcontroller that integrates an 8bit low power MCU core, speech synthesis circuit, high efficiency Class D speaker amp, non-volatile memory, and oscillator circuit on a single chip, making audio playback possible by simply connecting to a speaker.
The ML610Q304 also provides hardware-based audio playback operation that minimizes the load placed on the MCU for system control processing, and the newly designed high-efficiency Class D amp reduces current consumption during audio playback by approx. 40% while maintaining volume and is easier to incorporate into battery-driven devices.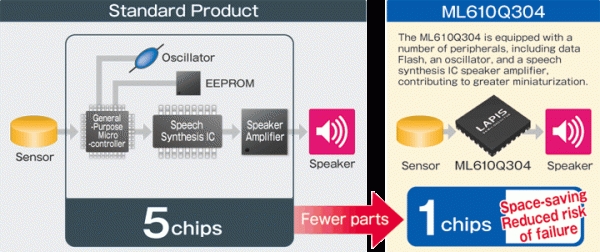 In recent years a growing number of electronic products are adding voice playback functionality, particularly battery-driven devices that require increased miniaturization and lower power consumption for longer operating life.
In addition, improvements in sensor technology along with greater awareness for safety and security have resulted in the increased adoption of alarm equipment that demand redundant safety measures such as advanced detection of abnormal audio playback in order to ensure reliable performance during emergencies and other unforeseen events.
To meet the growing need for lower power consumption in compact portable devices, LAPIS Semiconductor will continue to expand its low power microcontroller lineup and contribute to society through energy-saving products, solutions, and initiatives.
For more detail: 8-bit MCU with built-in 1 W Audio Amp