Digital Panel Meter performs digital processing on or conversion and display of voltages, currents, other analog signals, and pulse signals. This project is based on popular ICL 7107 IC, which is analog to digital converter and has been designed to drive 7 segment LED display. The ICL7107 is high performance, low power, 3, 1/3 digit A/D converter. Included are seven segment decoders, display drivers, a refe ...
Read more

›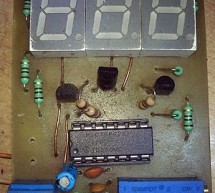 This electronic circuit project is a simple four channel digital voltmeter with display and keyboard . This four channel digital voltmeter is based on PIC16C71 manufactured by Microchip Technology . The PIC16C71 device's I/O ports have an improved sink/source specification. Each I/O pin can sink up to 25 mA and source 20 mA. In addition, total PORTB source current is 100 mA and sink current is 150 mA. PORTA ...
Read more

›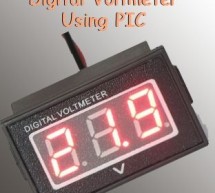 We are all aware of about voltmeters (voltage meter), which is nothing but a device used to measure voltage between given two terminals. Apart from the basic usage digital voltmeters are also employed as panel meters for automation systems and robotics. There are analog and Digital voltmeters are available in the market. Have you ever thought about building a PIC microcontroller based digital voltmeter with ...
Read more

›
If we know how inbuilt ADC work then we can easily build Digital Voltmeter using PIC Microcontroller. In my previous post, we can see how easily we build "Digital thermometer with auto saving log file in excel by Pic microcontroller". Using the same principle here we build Digital Voltmeter using PIC Microcontroller. Requirement: To make digital voltmeter we uses some material here I give you the list of th ...
Read more

›
Introduction This project will describe how to make a simple digital voltmeter (DVM) using a PIC16F688 microcontroller. The range of this DVM is 0-20V, but you can easily increase or decrease the range of input voltage as your requirements after you understand the voltage scaling method described in this project. The PIC micro reads the input voltage through one of the 8 analog channels and convert it to a ...
Read more

›