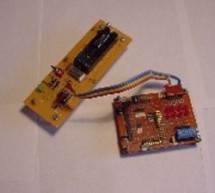 The photo shows a PIC16F84 microprocessor board tethered, by ribbon cable, to a circuit having 8 LEDs and an 8-position DIP switch. Learning a microprocessor's capabilities often demands such a setup where LEDs turn on/off, blink at desired rates and respond to switches. This tutorial serves to quickly accelerate your PIC16F84 development ambitions. Motivation and Audience An embedded micro like the PIC16F8 ...
Read more

›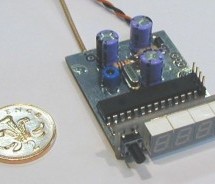 Circuit schematic PCB HEX code, V1.11 (operates with 4,000 MHz quartz) Hex code, V1.12 (operates with 4,1943 MHz quartz) PIC config bits Photo - Top view Photo - Bottom view Photo - Latest PCB version with TO-92 style 78L05 housing - Top view (132 kbyte) Photo - Latest PCB version with TO-92 style 78L05 housing - Bottom view (138 kbyte) This is a successor of the PIC16C71 4-digit LED f-counter & ...
Read more

›
Overview This adapter allows you to interface with your car's OBD-II bus. It provides you a USB interface using the ELM327 command set and supports all major OBD-II standards: SAE J1850 PWM SAE J1850 VPW ISO 9141-2 ISO 14230-4 ISO 15765-4 CAN Hardware You do not have to be familiar with all the details of OBD-II protocol as the adapter and PC desktop software will do it for you. The adapter kit schematic is ...
Read more

›
Introduction Sometimes you only need a simple and cheap RS232 terminal to get sufficient control over a PC or a RS232 device. There is no need, no space or even no power to place a monitor, a computer case and a keyboard. Maybe there exists also the problem, that the PC or the device is located somewhere else and you want to interact with it over a short distance. The cheapest way to obtain a complete user ...
Read more

›
This is an old design. Some of the components may be difficult to buy. If you would like to build an even better and cheaper A/D converter, take a look at the new PICADC3 design. The PICADC is a simple 12-bit, 8-channel analog to digital converter (with 4 additional digital inputs), which may be connected to the PC through the serial interface (RS232). The sequence of sampled channels, and sampling frequenc ...
Read more

›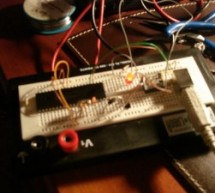 Introduction The idea of this project is to control (switch off/on) two power sockets with a computer by using its USB port. I've chosen USB in first place because I wanted to experiment with the PIC18F4550 microchip's microcontroller, and secondly because the power supplied by this port (500mA) is enough to activate a relay without any additional power supply. The firmware is based in SIXCA USBDAQ which is ...
Read more

›
Pic-plot now goes to USB! A perfect low cost solution to quickly get screen plots of your GPIB instrument on your laptop PC without complex software. It emulates the HP7470A operation on the GPIB side, and outputs the HP-GL data at the USB port to be read and stored on the PC by any capturing software. GPIB addresses and other set-and-forget parameters can be configured by a simple Setup menu, then no Dip-s ...
Read more

›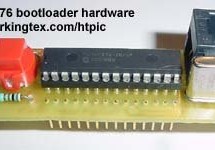 A bootloader enables download of hex-files directly into the flash-memory of a PIC or other microcontroller. The bootloader receives the user program via the PIC's UART and writes it directly to the program memory (self programming). This feature greatly speeds up the development process, because the chip remains in the target circuit and need not be moved between the target circuit and the programmer. When ...
Read more

›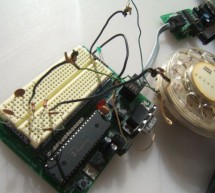 Rotary dialer PIC interface I have found myself with an abundance of rotary phones. In fact, they're everywhere I look. In hopes that I may someday see less of them, I've begun taking them apart and re-using the parts for other purposes. For some reason I got it into my brain that interfacing the rotary control with a PIC chip would be a good idea. I can only think of a couple of vague uses for it at the mo ...
Read more

›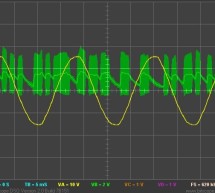 I recently bought The Energy Detective (TED), a pretty inexpensive and friendly way to keep tabs on your whole house's electricity usage. It's a lot like having a more featureful version of your utility company's power meter, sitting on your kitchen counter. It can estimate your utility bill, and tell you how much electricity and money you're using in real-time. The resolution is pretty good- 10 watts, 1 se ...
Read more

›