AD8307 USB 0-500MHz RF Power Meter Component List: 1x PIC18F2550 Programmed Microcontroller 1x AD8307 RF Power Meter IC 1x RF Power Meter Probe PCB 1x USB IO Board PCB 1x USB Type B Connector 1x 20MHz Crystal Resonator 1x 470K Resistor (yellow purple yellow gold) 2x 10K Resistor (brown black orange gold) 2x 100 Resistor (brown black brown gold) 1x 470nF Ceramic Capacitor 5x 100nF Ceramic Capacitor   Technic ...
Read more

›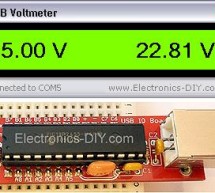 USB Voltmeter USB Voltmeter is a PC based dual channel voltmeter built around PIC18F2455 / PIC18F2550 microcontroller that measures voltage from 0.00V up to 500.00V with 10mV resolution. USB Voltmeter sends measured data to PC via standard USB connection displaying data on a computer monitor. USB Voltmeter is self-powered drawing very little current from USB port. Voltage readings are displayed via included ...
Read more

›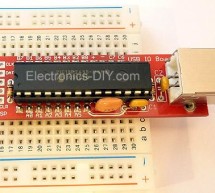 USB IO Board Component List: 1x PIC18F2455 / PIC18F2550 Programmed Microcontroller (MCU) 1x USB Type B Connector 1x 20MHz Crystal Resonator 2x 10K Resistor (brown black orange gold) 1x 470 Resistor (yellow purple brown gold) 1x 470nF Ceramic Capacitor 1x 100nF Ceramic Capacitor   Technical Specifications: Voltage Supply: 5V (USB powered) Current Consumption: 5mA I/O PINs: 16 About PIC18F2455 / PIC18F2550 U ...
Read more

›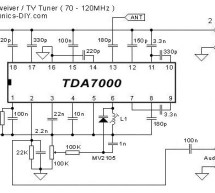 Parts: 1x TDA7000 IC - FM Receiver 1x 3.5 Turns Variable Coil (L1) 1x MV2105 - Varicap Diode ANT - Telescopic Antenna or a piece of wire 1x 100K Potentiometer 1x 100K Resistor 1 x 22K Resistor 3x 100nF Capacitor 1x 22nF Capacitor  1x 10nF Capacitor 2x 3.3nF Capacitor 1x 2.2nF Capacitor 1x 1nF Capacitor 2x 330pF Capacitor 2x 220pF Capacitor 2x 180pF Capacitor 1x 150pF Capacitor   Technical Specifications: Su ...
Read more

›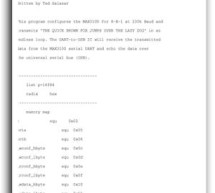 Abstract: USB has just become easy to implement. This application note eases equipment designers into USB by allowing them to continue to transmit and receive data using the familiar UART frames of the MAX3100 UART. A UART-to-USB converter IC and operating system driver will take care of all of the USB complexity. The application note describes all of the software and hardware you need in order to transmit ...
Read more

›
This DIY PIC programmer is a continuation of our PIC programming basics tutorial. By using this USB PIC programmer, you can program microchip PIC series of 10F, 12F, 16F, 18F, 24F, 30F. This is also an EEPROM programmer as it supports 12Cxx EEPROM. The main component of this PIC microcontroller programming circuit is a PIC182550 microcontroller which controls the overall circuit. Serial port PIC programmers ...
Read more

›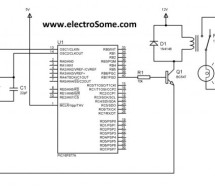 A relay is an electromagnetic switch which is used to switch High Voltage/Current using Low power circuits. Relay isolates low power circuits from high power circuits. It is activated by energizing a coil wounded on a soft iron core. For detailed working of relay please visit this page. A relay should not be directly connected to a microcontroller, it needs a driving circuit. A relay should not be connected ...
Read more

›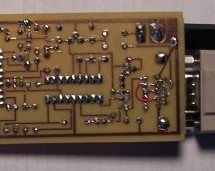 SD memory cards, especially the ones under 1GB are cheap, relatively easy to interface and provide vast amounts of memory for imbedded control. This device lets you 'talk' to sd cards through your serial port. Communication is in ASCII so you just need a terminal program to access it. (Note: the photos shown are of the rev-1 device with various changes, documentation is for the rev-2). The Hardware SD socke ...
Read more

›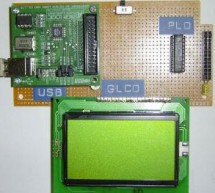 Simple expansion board for 8051SBC provides easy USB port and graphic LCD interface. I am planing to design the x86 board for some of my application that needs more computing capability. One of the feature that I need to add to the x86 board is USB port. I found the ASIC that enables 8-bit MCU to interface USB easily from Future Technology Devices International: FTDI. The USB controller chip is FT245BM. For ...
Read more

›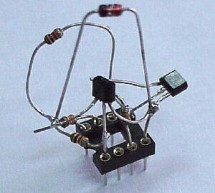 There're many, who built the Easy Programmer or C-52 EvaluationBoard, asking for the RS232C level converter chip, DS275. Many have changedto MAX232 instead, because of not available in his home. Here is anothersimple and cheap circuit using small signal transistor providing TTL toRS232C level converter. A circuit diagram shown above was used two small signal transistor,NPN and PNP transistors. Dash line sep ...
Read more

›