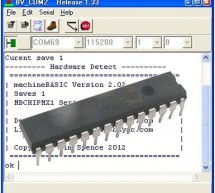 $15.00 BASIC Computer? Imagine a microcontroller that you can connect a serial terminal up to to get an ok prompt? What would happen if you changed one of the control registers can I see the effect straight away? Is it really possible to download programs onto this chip from the Internet and run them? Can I create a program and have it run at reset? Do I only need a serial link and two capacitors to get the ...
Read more

›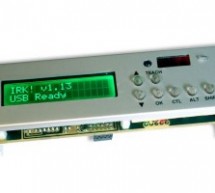 IRK! Infrared Remote Controlled USB Keyboard Without Keys IRK! is a USB keyboard, without keys, that you can operate just by using your LEARNINGinfrared remote control.I created it to allow me to control my MythTV home theater PC with my LEARNING infrared remote control instead of having to use a real USB keyboard - but it will work with any system (Linux, Windows, or whatever) that you can plug a USB keybo ...
Read more

›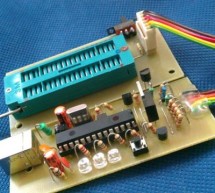 Microchip's PICKit2 is much more comfortable,reliable and powerful than the other programmers that we can find all over internet. It is a USB based ICSP (In Circuit Serial Programming) programmer. Since it is a first release, Microchip published all the resources of PICKit2 public, which includes hardware schematics and all source code of softwares used. Through this any one can add features, fix bugs and m ...
Read more

›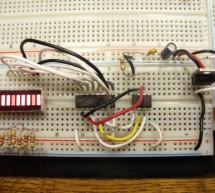 Intro: How to use a 74HC595 Shift Register with a AVR ATtiny13 If you have been playing with microcontrollers and electronics then you have likely seen LED dot matrix displays and other projects that use shift registers like 7-segment displays and more. This instructable goes over a quick intro to the 74HC595 8-Bit Serail to Parallel Shift Register with Latch and how to interface it to an AVR ATtiny13 to fl ...
Read more

›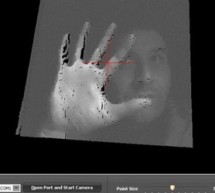 PC Interfacing a GameBoy Camera Here's another past project of mine from a couple of years ago. At that time I was looking for a low-res camera for simple robotics image processing, and all I had experience with was PIC (12, 16, and 18) microcontrollers. So I didn't really get to work on the images real time (not enough RAM or speed, and I could not find any suitable SRAM around at that time). I thin ...
Read more

›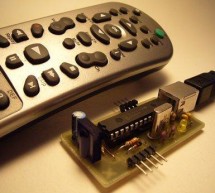 ow that we listen to MP3s, and watch XVIDs or x264s, a computer is the entertainment center in at least one room of most homes. Unless you have a special HTPC, though, you're probably stuck using the keyboard to pause, change the volume, and fast-forward through annoying Mythbusters recaps. PC remote control receivers range from ancient serial port designs (who has one?) to USB devices not supported by popu ...
Read more

›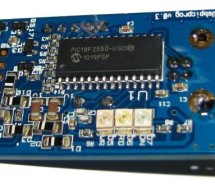 Usbpicprog is an USB in circuit programmer for Microchip PIC processors family PIC10F, PIC12F, PIC16F, PIC18F, PIC24F, PIC32F and I2C Eeprom 24xx. The hardware is as simple as possible, the current version only contains one PIC18F2550, 4 mosfets, and besides the connectors a hand full of passive components. Components Usbpicprog consists of three main components: Hardware – A PCB design which contains the n ...
Read more

›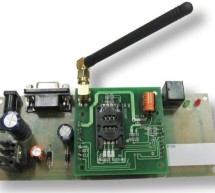 We have seen many Electronics Engineering projects use GSM Modem. GSM modems are widely integrated with GSM security system, GSM alarm to provide easy user interaction of user to the embedded project. What is a GSM module? A GSM module lets you to make calls, Send messages, Process messages and calls, Interrupts sing SMS and CALL, inform system status, values, GPS location, alerts etc within the embedded mo ...
Read more

›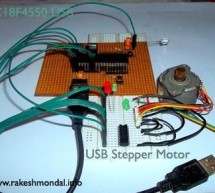 USB Stepper Motor Driver In this project we are going to drive a unipolar Stepper motor (5 wire) using USB interface from a PC Computer. This project is an application of the USB Interface Board PIC18F4550 which was published here in the past. You can run other stepper motors too. It is simple and easy to make, we are going to use PIC18F4550 microcontroller which has an in built USB (USB 2.0) functionality ...
Read more

›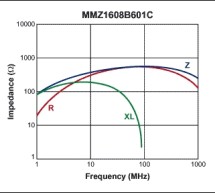 MAX5581 Overview The MAX5581 is a 12-bit, fast-settling DAC featuring a 3-wire SPI™ serial interface. The MAX5581's interface can support SPI up to 20MHz with a maximum settling time of 3µs. This application note presents an application circuit and all the firmware required to interface the fastest line of PIC microcontrollers (PIC18F core) to the MAX5581 DAC. The example assembly program was written specif ...
Read more

›