Introduces breakthrough ErgoTM edge inference processor, delivering 4+ TOPS sustained and 55 TOPS/W, capable of processing large neural networks in 20mW
Selected by two of the leading providers of smart connected camera and security products to integrate advanced neural network applications into future products
Perceive Corporation, an edge inference solutions company, today launched the company and debuted its first product, the ErgoTM edge inference processor. Ergo brings breakthrough accuracy and performance to consumer devices such as security cameras, smart appliances, and mobile phones. The Ergo chip and reference board are currently being sampled to leading customers and are ready for mass production in the second quarter of 2020.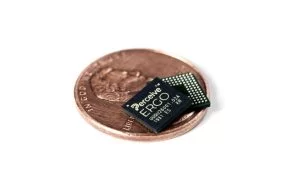 In an environment where consumers are demanding greater security and privacy, Ergo removes the need to send sensor data from devices to the cloud for analysis. Ergo's real-time, on-device inference processing makes it ideally suited for devices where consumer experience and privacy of data such as video and audio are of paramount importance. Whether it is reducing false notifications in a security camera, extending battery life in a mobile device, or simplifying the user interface of a home appliance, Ergo improves key device features by enabling comprehension and intelligent reactions to surroundings—without compromising consumer security.
Everyone wants smarter devices—but until now, only the cloud has provided the requisite accuracy," said Steve Teig, Chief Executive Officer of Perceive. "Perceive has developed novel, mathematically rigorous methods for inference that redefine what is possible in an edge device. Our Ergo chip delivers data center-class accuracy and performance in consumer devices, protecting privacy and security while running at ultra-low power.
Perceive was incubated by and is a majority-owned subsidiary of Xperi Corporation (Nasdaq: XPER), a leader in audio, imaging and semiconductor technology focused on creating innovative solutions for smart devices that enable extraordinary experiences for people around the world.
Read more: PERCEIVE CORPORATION LAUNCHES TO DELIVER DATA CENTER-CLASS ACCURACY AND PERFORMANCE AT ULTRA-LOW POWER FOR CONSUMER DEVICES