Lumileds has started to make multi-LED area and line light sources, based around 3535L surface mount LEDs on ridged and flexible PCBs.
It is making the area products, described them as its 'matrix platform', at its plant in Penang, Malaysia.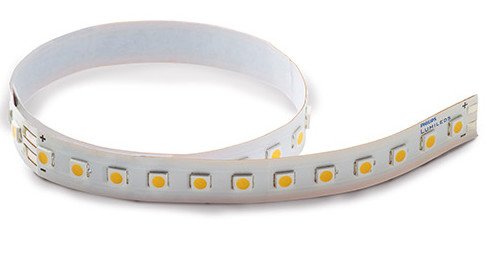 Luxeon XR (below) is the name of the rigid line, and the flexies are Luxeon XF (right).
XR-3535L is first out of the traps. Designed for Zhaga compliant assemblies and aimed at troffers, it comes in 3,000, 3,500 or 4,000K colour temperature with a CRI of 80. Output is 1,320 to 1,515 lm and maximum efficacy is 160 lm/W. LEDs are connected as a parallel combination of three strings, each of 11 LEDs. These are arranged as a 11×3 array on a 280x55mm substrate. There is a connector (from Molex), at each end of the board. nominal drive is 300mA. Mounting is by screws.
Intended for accent and cabinet lighting, and with the same maximum efficacy, the flexible XF-3535L products lave a long single line of LEDs on tape and range from 1,100 to 5,070 lm. The tape is backed with adhesive for attachment to heatsinks.
For more detail: Lumileds line and area sources for LED lighting