Description
The LTC®5551 is a 2.5V to 3.6V mixer optimized for RF downconverting mixer applications that require very high dynamic range. The LTC5551 covers the 300MHz to 3.5GHz RF Frequency range with LO frequency range of 200MHz to 3.5GHz. The LTC5551 provides very high IIP3 and P1dB with low power consumption. A typical application is a basestation receiver covering 700MHz to 2.7GHz frequency range. The RF input can be matched for a wide range of frequencies and the IF is usable up to 1GHz.
A low power mode is activated by pulling the ISEL pin high, reducing the power consumption by about 1/3, however, with a corresponding reduction in IIP3 to approximately +29dBm. The mixer can also be turned on or off by using the EN pin.
The LTC5551's high level of integration minimizes the total solution cost, board space and system level variation, while providing the highest dynamic range for demanding receiver applications.
Applications
GSM, LTE, LTE-Advanced Basestations
Repeaters
DPD Observation Receiver
Public Safety Radios, Military and Defense
Avionics Radios and TCAS Transponders
Active Phased-Array Antennas
White-Space Radio Receiver
Features
+36dBm Input IP3
2.4dB Conversion Gain
Low Noise Figure: <10dB
+18dBm Ultra High Input P1dB
670mW Power Consumption
2.5V to 3.6V Operation
50Ω Single-Ended RF and LO Inputs
0dBm LO Drive Level
Low Power Mode
–40°C to 105°C Operation (TC)
Small Solution Size
Enable Pin
16-Lead (4mm × 4mm) QFN Package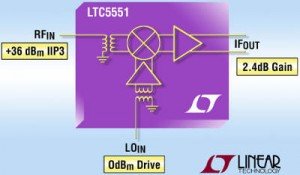 Linear Technology has announced a wide dynamic range RF down-converting mixer with +36dBm input third-order intercept (IIP3) and 9.7dB noise figure "comparable to the highest IIP3 passive mixers available", claimed the firm.
It is called the LTC5551.
"Unlike passive mixers which typically have 7dB to 9dB of conversion loss, the LTC5551 boasts 2.4dB of conversion gain, operating from 300MHz to 3.5GHz," said the firm.
There is an integrated local oscillator buffer, requiring only 0dBm drive.
"The elimination of a high power LO signal in the users' receiver, substantially reduces a potential source of undesirable radiation, simplifying filtering and RF shielding requirements," said Linear Tech.
1dB compression point is +18dBm, and both the RF and LO inputs have integrated balun transformers.
Consumption is 204mA from 3.3V, and there is a lower power mode (142mA) which drops IIP3 to +29.3dBm, and a 100µA stand-by. For burst-mode operation, both turn-on and turn-off are in 500ns.
– See more at: http://www.electronicsweekly.com/news/components/analogue-and-discretes/36dbm-iip3-down-converting-mixer-with-2-4db-conversion-gain-2013-09/#sthash.97v2F2Li.dpuf