XMOS is shipping its  xCORE-AUDIO processor family and sampling its Gigabit Ethernet enabled xCORE-200 multicore microcontroller family. 
"There's a big trend for much better audio content," XMOS CEO Nigel Toon told EW, "there's a backlash against MP3. They're going to much higher quality helped by the fact that  you can now transfer big audio files. Sony is pushing hi-res audio DSD digital streaming. The move is from CD quality at 44KHz with 16bits resolution to 384KHz with 24bits resolution."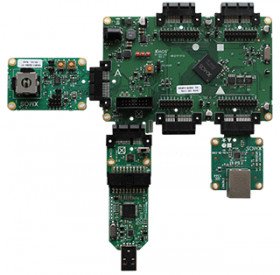 The xCORE-AUDIO processor is built on XMOS' xCORE-200 multicore microcontroller processor technology, with stereo Hi-Res-2. There are two product lines:  xCORE-AUDIO Hi-Res, targeting  stereo hi-res USB headphone amplifiers, DACs and AVR systems, and  xCORE-AUDIO Live for  prosumer and professional audio applications including  DJ kits, mixing and audio content creation.
"The demand for high-resolution audio content for consumption on the move, and the complexities of creating the same content in the studio and concert hall, are well served by our USB 2.0 and networked audio solutions," said Toon, "by selecting output formats from our audio I/O libraries, and using multicore power to implement complex DSP functions, XMOS delivers professional audio solutions at consumer prices." The chips will cost $2 in volume quantities.
xCORE-AUDIO Hi-Res 2 supports:  USB 2.0 (Full-speed and High-speed); USB Audio Class 1.0;
USB Audio Class 2.0, USB Firmware Upgrade (DFU) 1.1.; I2S, DSD and SPDIF output formats; 44.1kHz, 48kHz, 88.2kHz, 96kHz, 176.4kHz, 192kHz, 352.8kHz, 384kHz. The xCORE-AUDIO Hi-Res 2 development board is also now available.
XMOS is also sampling its Gigabit Ethernet enabled xCORE-200 multicore microcontroller which integrates 16 32bit-RISC-processor-cores, delivering  up to 2000MIPs of real-time computing power and available with programmable MAC layer and Internet webserver support.
For more detail: XMOS shipping hi-res audio