It's not just another 3D printer – it is all about Choco, edible and incredibly fancy, if you make your own Choco objects with mycusini – the first consumer 3D Choco printer coming up on Kickstarter.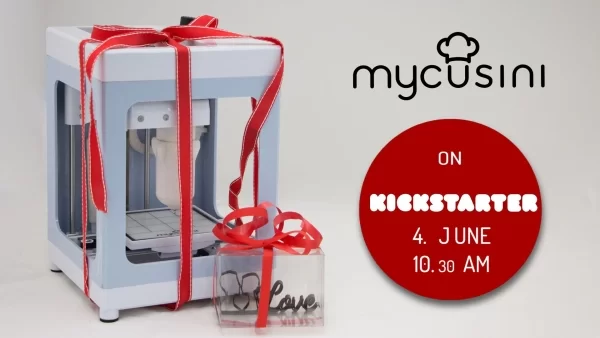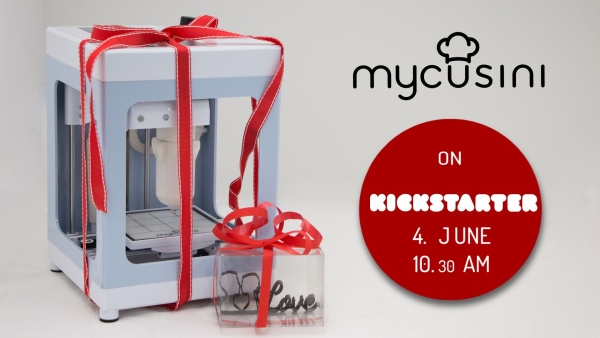 Create 3D Choco give-aways for your loved ones or the Choco highlight on your dessert. Easily filled with delicious mascarpone cream, a sauce and some nicely arranged fruits and you will challenge even a professional pastry chef.
Who's behind mycusini? It is the German startup Print2Taste. The team has proven to be successful on Kickstarter already in 2015 with world's first plug & play 3D food printer.
In terms of production quality and speed there is no difference to professional 3D food printers for 2.000 € and above says Eva Schlosser, "mom of mycusini" at Print2Taste.
According to Schlosser, the team invested more than 3 years in the development of mycusini. Every detail is optimized to the needs of consumers. Starting with the outer dimensions, positioning, production platform, cartridge up to the specially developed extruder with quick release. The mycusini is reduced to the max, with only 19 x 19,5 x 27 cm it is smaller than most coffee machines and fits into every kitchen. The compact size also explains the attractive price.
The mycusini is powered by special 3D Choco refills provided by Print2Taste – success guaranteed. With the mycusini premium, also available on Kickstarter, wireless 3D Choco printing up to 2 hours will be possible for the first time, independent where you are or what you do.
Easy-to-make text messages even via smart device, free access to a huge template library with more than 100 creative objects and easy operation will ensure a maximum fun factor. Starting at 198 €, mycusini is also perfect as a gift. With the mycusini special deal, (guaranteed shipping till Christmas or backers may ask for refund) mycusini might be the hottie under your Christmas tree 2019.
Read more: WORLD'S FIRST CONSUMER 3D CHOCO PRINTER STARTING AT 198 €