Variscite launches NXP iMX8X based VAR-SOM-MX8X System on Module
Variscite recently announced the launch of a new i.MX 8X-based System on Module. The new VAR-SOM-MX8X product family supports NXP's i.MX 8QuadXPlus / 8DualXPlus / 8DualX processor with up to Quad 1.2GHz Cortex™-A35. The SoM provides built-in safety features, highly integrated multimedia support and efficient power/performance architecture.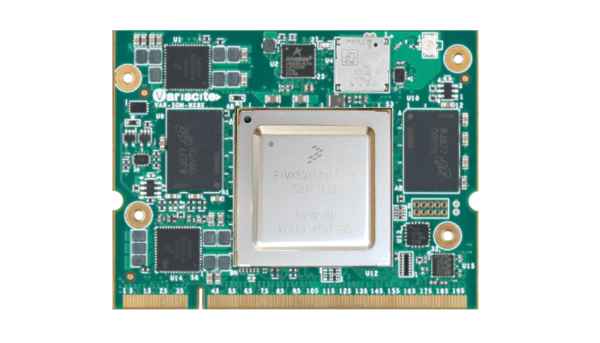 The VAR-SOM-MX8X is a pin2pin System on Module, compatible with the VAR-SOM-MX8, VAR-SOM-MX6, and VAR-SOM-SOLO/DUAL. It offers Variscite's customers a high level of scalability, extended lifetime availability and reduced development time, cost and risk.
Highly integrated solution
This highly integrated SoM is designed to support a wide range of high-reliability, power-efficient applications, from industrial automation & control to defense, medical, telematics, building control, failover displays/HMI and robotics. The SoM multimedia features and interfaces options include Vivante GC7000Lite GPU for 2D and 3D graphics acceleration, 4K H.265 Decode, 1080p H.264 Encode/Decode, Camera Interfaces, DSI / LVDS, Parallel LCD, dual GbE, certified Wi-Fi/BT, CAN/CAN-FD, USB3 and serial interfaces.
Power-optimized performance
The VAR-SOM-MX8X offers high processing capabilities in a power-optimized platform, thanks to the integration of ARM's most efficient Cortex™-A35 cores with its Cortex-M4F real-time co-processor.
Long term relationship and scalability
The VAR-SOM-MX8X is a part of Variscite's Pin2Pin product family and is pin-compatible with Variscite's VAR-SOM-MX6, VAR-SOM-SOLO/DUAL and the upcoming VAR-SOM-MX8.
The Pin2Pin product family allows Variscite's customers to enjoy significant long-term advantages:
Scalability: The customer's end product can be easily scaled to a higher or lower performance platform, thus optimizing the end products' cost-performance.
Ease of development and integration: Customers can develop a single custom carrier board to support different pin-compatible SoM solutions from Variscite, thus reducing development time, cost and risk.
Lifetime extension: The pin-compatibility solutions from Variscite allow customers to upgrade their products to a newer solution with an extended lifetime availability.
Read more: Variscite launches NXP iMX8X based VAR-SOM-MX8X System on Module
Current Project / Post can also be found using:
Project Ratings:
Related posts
Leave a Comment