Toradex, a leader in embedded computing, announced today general availability for its Apalis System on Module (SoM) based on the NXP® i.MX 8QuadMax applications processor. The SoM has been available as part of Toradex's 'early access' program to its key partners and customers for several months and has a minimum product availability until 2030.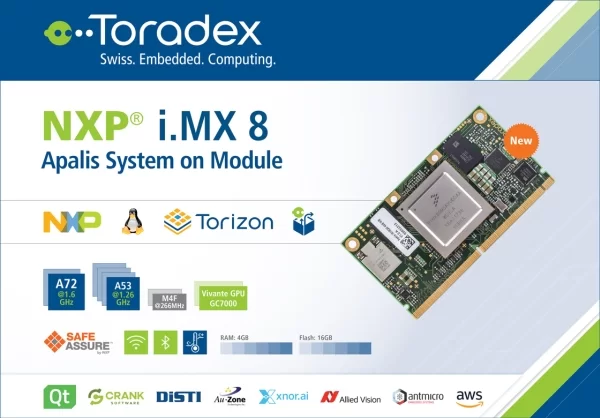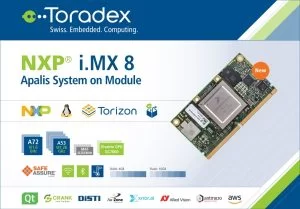 The SoM is pin-compatible with the Apalis family, including i.MX 6 and NVIDIA®-based SoMs. This allows Apalis-based products to be easily scaled. All Toradex software and support resources are available, including a high-quality Yocto Project-based Linux BSP and the new upcoming easy-to-use Industrial Linux Platform Torizon. Operating Systems provided by partners include Android from Kynetics, QNX, and Greenhills INTEGRITY.
The NXP i.MX 8QM SoC is the highest performance variation of the i.MX 8 family, featuring 6x Armv8-A 64-bit processor cores – 2x Arm Cortex-A72 & 4x Cortex-A53 – as well as 2x additional Cortex-M4F microcontrollers. The integrated HIFI4 DSP, a high-performance dual GPU, 28 nm FD-SOI technology for decrease in soft error rates, and extra safety features are other highlights.
With this, you can leverage the Toradex Partner Ecosystem. Here are some highlights:
Read more: TORADEX ANNOUNCES ITS APALIS SOM BASED ON THE NXP I.MX 8QUADMAX APPLICATIONS PROCESSOR