TI introduces world's first multichannel inductance-to-digital converters
Texas Instruments (TI) announced the world's first multichannel inductance-to-digital converters (LDCs). The four new devices in the LDC1614 family expand the innovative LDC portfolio, a data converter category that TI first introduced in 2013. The devices offer two or four matched channels and up to 28-bit resolution in a single integrated circuit (IC).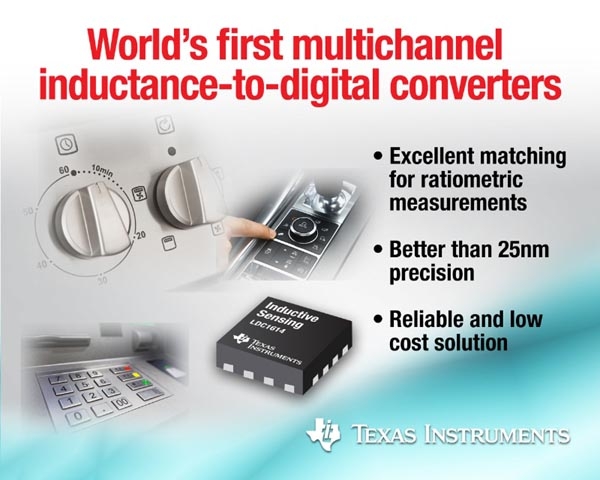 The combination of precision and multichannel functionality will allow engineers to design high dynamic range position and motion sensing solutions with simpler system designs and reduced cost. Unlike other technologies, LDC-enabled inductive sensing employs low-cost, high-reliability inductors as sensors, which can be located remotely from the IC. By integrating up to four channels in a single IC, the LDC1614 family allows designers to distribute sensors throughout a system, while centralizing electronics on fewer printed circuit boards (PCBs). This can benefit precision linear or rotational sensing and metal detection in a variety of end equipment including white goods, printers, cameras and automotive infotainment consoles.
Key benefits of the LDC1614 family:
Multiple, well-matched channels:
Enables differential and ratiometric measurements, allowing designers to easily compensate for environmental and aging conditions such as temperature, humidity and mechanical drift.
Precision measurement capability:
With up to 28-bit resolution, the devices can detect submicron changes in distance
For more detail: TI introduces world's first multichannel inductance-to-digital converters
Project Ratings:
Related posts
Leave a Comment