PIC Programmer is an essential tool if you wish to learn or build projects with Microchip PIC Micro Processors.
This programmer is built using Free Windows Software called WinPicProg and other similar software from PICALLW or Oshosoft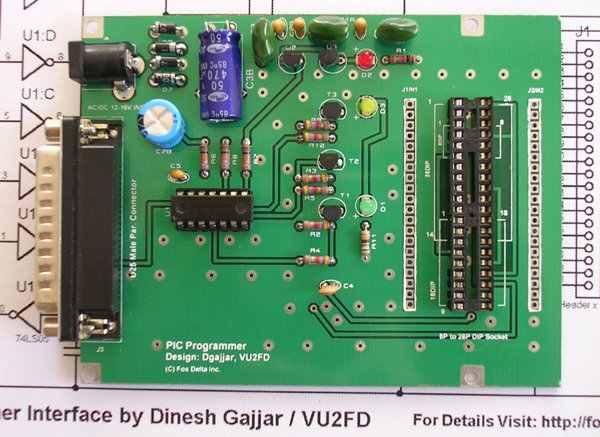 Programmer PCB is double sided PTH board. In this programmer, you have a 0.3 Inch IC socket (40pin) on the main board, where you can place either 8, 18 or 28pin ICS for programming. An adaptor PCB with male/Female header is supplied with this kit for 40pin DIP. (without 40pin DIL Socket) 
However, make sure that you insert PIC ICs at the proper location on this 40Pin socket. Suitable markings of placement are made on the PCB.
I have included required hardware settings in the DOC for Oshonsoft parallel programming software
Warning:

This programmer is controlled from Parallel Printer Port of your PC. 
If you keep Micro-controller chip on this powered programmer & try to PRINT from any application,  it would damage the micro-controller. Apply power to this programmer only after running the programming software.
 Programmer Documents & Schematics
 Free Programming Software

 

OSHONSOFT – Free Windows Parallel Port PIC Programming Software by Vladimir Soso.

Download Free Software for PIC16Fxx

Download Free Software for PIC18Fxx

---

Odyssey 0.4 Software for LINUX

---

PICALL – Free programming software

Visit PICALL Website

P16PRO DOS software ver 3.64 September 2000 works also under Windows 3.1x and 9x
P16PRO DOS LIGHT software ver 1.0 April 1999 is provided as FREEWARE, but only for private, non-commercial use !!! (that means at home). You may also use windows software in P16PRO FREE MODE for programming PIC16x84x.

---

WINPICPRO – Free programming software for MicroChip PICs by Nigel Goodwin.

Please refer to Product Doc for settings for this software

Visit WINPICPRO Website

  

Download Winpicpro

Download Drivers
 Buy Kits & PCBs On-Line
Kits no longer available.
If you still need a Parallel Port PIC Programmer, consider ICP Programmer
For more detail:  Parallel Port Microchip PIC Micro Controller Programmer
Current Project / Post can also be found using:
Pic Micro controller programmer circuit
WinPicProg 1 91
Parallel port Pic programmer circuit
pic programmer parallel port