If statistics are anything to go by, then the smartphone market is predicted to go on a downfall. This might be attributed to the fact that most smartphones nowadays look almost similar to each other, break easily and they are not getting even smarter. The question is, will consumers ever get a more reliable smartphone? Well, worry no more. In comes the DOOGEE S90 (https://s90.doogee.cc) modular rugged phone to the rescue, with a impressive design concept of an all-in-one phone with limitless possibility. This new product is the latest generation of DOOGEE S series rugged phone. The Chinese manufacturer has been known to produce quality rugged phones before, and now they have not disappointed with the modular S90, which is said that will be debuted on crowdfunding platform.
All-In-One Modular Rugged Phone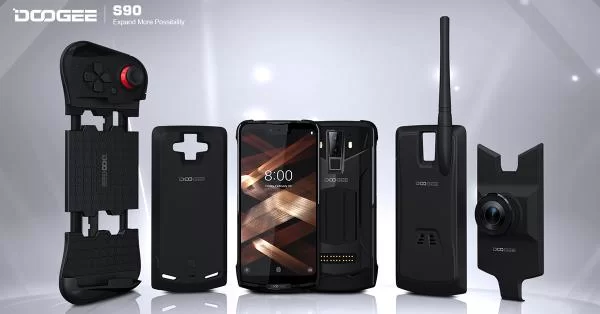 The DOOGEE S90 comes with four modules which give an all-in-one alternative to buying separate gadgets. Its modular design is by far the most impressive one in today's market. It is easy to mix, match and swap its modules by magnet, and they work instantly when slid into the slot on the S90 back cover with a snap. The following are the four modules of the DOOGEE S90.
1. Night Vision Camera Module
Night vision camera is really an excellent gift for a shutterbug to discover the beauty at night. Able to illuminate even pitch-black scenes, this night vision camera module makes it possible for enthusiasts to take clear and bright captions through extreme darkness with its' 12 times light sensitive telephoto lens, f/1.8 big aperture, 131°super wide-angle and IR correction capabilities. That's also most useful to snap pictures at dark caves, weak light areas or back light areas. With the night vision camera module, users will not leave out any beautiful scenery in dark.
Read more : THE ALL-IN-ONE DOOGEE S90 MODULAR RUGGED PHONE WILL BE DEBUTED AT CROWDFUNDING PLATFORM