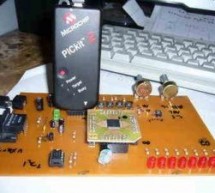 Beginner level LEDs, buttons, analog input, 24Cxx EEPROM and serial communication with the PC I did try a little experiment where you can make your own set. Wishing to be helpful. Simple DSPIC Development...Electronics Projects, Simple DSPIC Experiment Development Board "dspic projects, pic development board, " Beginner level LEDs, buttons, analog input, 24Cxx EEPROM and serial communication with the PC I d ...
Read more

›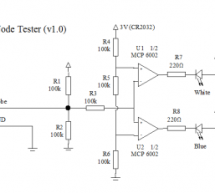 The Goals Sometimes you need to check one circuit and test some of its nodes. Usually a tester in voltage mode is a good solution, but it has a pair of problems. First, it measures about zero both when the node is driven at zero volts and when the node is floating (not driven at all). Second, it gives the information on the tester display, so you need to take the view from the circuit to the tester to check ...
Read more

›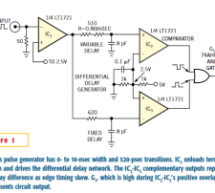 If you need to produce extremely fast pulses in response to an input and trigger, such as for sampling applications, the predictably programmable short-time-interval generator has broad uses. The circuit of Figure 1, built around a quad high-speed comparator and a high-speed gate, has settable 0- to 10 ns output width with 520 ps, 5V transitions. Pulse width varies less than 100 ps with 5V supply var ...
Read more

›
Some notes: 1. The C3 can be omitted, its purpose was to filter noises picked up by connecting cable between board and sensing transistor, but as the transistor is mounted on the board it become unnecessary. 2. R8 is optional and is for reducing the fan speed. Its value must be calculated according the fan current rating and the shorting track bellow it must be cut with sharp knife. 3. When mounting, make s ...
Read more

›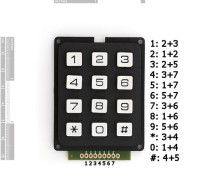 Simple method for creating a custom button keypad that doesn't require separate hardware.  Just your microcontroller buttons a few resistors. What we have here is 9 buttons and 6 signal lines (3 inputs, 3 outputs).  The basic setup is in a grid pattern where the three input lines come down as columns (PIN0, PIN1, and PIN2),  and the three output lines come across as rows (PIN3, PIN4, and PIN5). Each button ...
Read more

›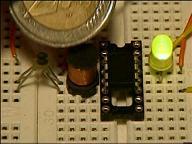 A short video clip is sometimes better than a long explanation : The idea of this circuit is to hack PIC oscillator circuit, by replacing the crystal by a coil : the frequency of the oscillator then depends on presence of metal near the coil, just like in a classic metal detector. To detect changes of main oscillator frequency, we use the PIC watchdog as internal time reference. By comparing both oscillator ...
Read more

›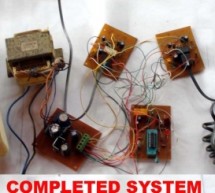 This is a very small telephone exchange attached only two ordinary Tele phones. Fully bi-directional facility with an intercom system. When a phone is in off hook condition , Exchange will detect it & send ringing pulse to other phone. When it will be picked up , the connection will be established between both phones. This will be taken place vice-versa. Micro Controller = PIC16F84A Firmware version = 1 ...
Read more

›