STMicroelectronics, a global semiconductor leader serving customers across the spectrum of electronics applications, has released an innovative full-color ambient light sensor (ALS) that helps smartphones take better pictures and present more visually accurate data on screen displays. By simultaneously providing scene color temperature, ultra-violet (UVA) radiation level, and lighting frequency information, the VD6281 lets the camera correct white balance and enhance color presentation, and sets appropriate exposure times for the camera to avoid flicker artefacts and eliminate banding in pictures and videos, especially in scenes lit with contemporary LED sources.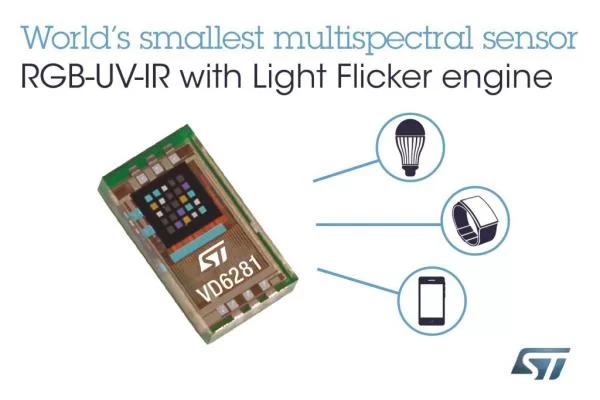 Leveraging the Company's extensive camera system know-how, ST's new VD6281 offers customers a state-of-the-art multispectral ambient light sensor," said Eric Aussedat, General Manager of ST's Imaging Division. "Our roadmap for ALS and flicker sensors is an ideal complement to ST's market-leading FligbhtSense(TM) Time-of-Flight (ToF) product portfolio. With a growing number of high-quality, high-resolution cameras per phone, our goal is to offer an advanced solution to assist white-balance correction and remove flicker artefacts in smartphone camera images. Mobiles equipped with VD6281 were already released in 2018, and many others will be coming soon.
It can work to as low as 1mLux, and in less than 8ms (One frame at 120frame/s), and consumes less than 1mW when ambient light sensing. Flicker detection comes from an internal 'patented flicker engine', said the firm, that works across 50Hz to 2kHz with better than 3% accuracy – including with LED lighting PWM square signals. The reflowable package has six pins, communication is throught I2C and an Android software driver is available.
Read more: RGB UV IR LIGHT SENSOR IS UNDER 1X2MM