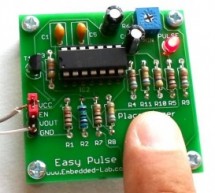 When I first built the Heart rate measurement through fingertip project, the infrared LED and photodiode used for finger photoplethysmography were actually from salvaged parts, and therefore, I could not provide specifications for them in the article. As a result of that it takes quite a bit of time to replicate that project with a different set of IR LED and photodiode as the values of the current limiting ...
Read more

›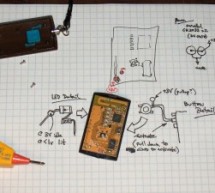 What This Is This project is for a small electronic unit that allows the user to sense the presence and relative signal strength of wireless hotspots. It can be worn as a pendant or carried in a pocket. It is "always on" and communicates the presence and signal strength of an in-range hotspot by way of sequences of pulses - like a heartbeat you can feel. The stronger and faster the "heartbeat", the stronger ...
Read more

›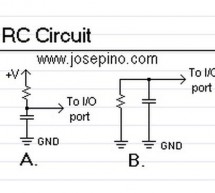 Digital electronics and Analog electronics doesn't mix easily. A Microcontroller can't get analog values unless an Analog-to-Digital converter is used, however, you may find a little complicated the use of an ADC and it need lots of Input/Output ports. Some Microcontrollers, like the small 8-pin Microchip PIC 12F675, do have an ADC integrated, but it is expensier than a PIC without ADC. A simple solu ...
Read more

›
What is meant by Analog to Digital Converter (ADC)? An ADC converts analog signal to it's corresponding digital signal. How to convert analog signal to digital signal? CircuitsGallery.com has already posted ADC using LM324 IC, in that ADC tutorial I had already explained Analog to Digital Converter how it works. While dealing with Microcontrollers we may face many situations where we have to use ADCs (Digit ...
Read more

›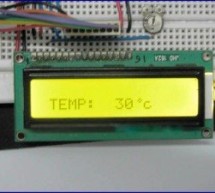 A Digital Thermometer can be easily constructed using a PIC Microcontroller and LM35 Temperature Sensor. LM35 series is a low cost and precision Integrated Circuit Temperature Sensor whose output voltage is proportional to Centigrade temperature scale. Thus LM35 has an advantage over other temperature sensors calibrated in Kelvin as the users don't require subtraction of large constant voltage to obtain the ...
Read more

›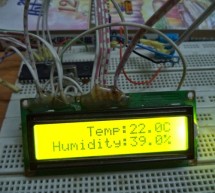 After interfacing the DHT11 with Arduino uno board at the following post: ARDUINO Humidity & Temperature Measurement Using DHT11 Sensor Now we are going to see how to interface this sensor with microchip pic16f877a. There are some descriptions of how this sensor work  in the above link A brief description of the code: The code is written using MikroC compiler.  First we must send a start signal to the s ...
Read more

›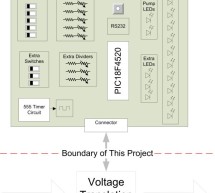 Introduction This project was the first stage of developing a controller for a radiant floor heat system. The microcontroller will use inputs from thermostats, thermocouples, a flow meter, and pressure switches to control the operation of the pumps and valves to achieve improved efficiency of the system as a whole. This project idea came from a friend who recently built a house which utilizes an outdoor woo ...
Read more

›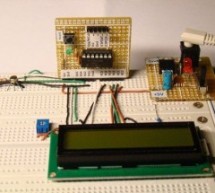 Introduction A digital thermometer is a good choice of project for beginners who just stepped in to the world of microcontrollers because it provides an opportunity to learn using sensors to measure the real world signals that are analog in nature. This article describes a similar project based on a PIC16F688 microcontroller and an LM35 temperature sensor. LM35 is an analog sensor that converts the surround ...
Read more

›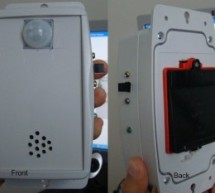 Introduction This project describes a motion sensor alarm based on a Passive Infra-Red (PIR) sensor module. There are many vendors that manufacture the PIR sensor modules and almost all of them are pretty much the same in function. They have a single output that goes high (or low, based on specification) when the motion is detected. In this project, a PIC12F635 microcontroller continuously monitors the outp ...
Read more

›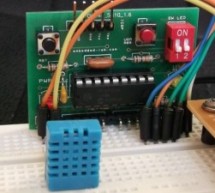 Measurement and control of temperature and relative humidity finds applications in numerous areas. These days devices are available which have both temperature and humidity sensors with signal conditioning, ADC, calibration and communication interface all built inside them. The use of such smart sensors greatly simplify the design and reduces the overall cost. We discussed in past about Humidity and tempera ...
Read more

›