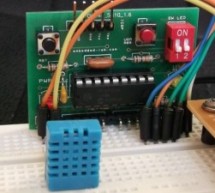 Measurement and control of temperature and relative humidity finds applications in numerous areas. These days devices are available which have both temperature and humidity sensors with signal conditioning, ADC, calibration and communication interface all built inside them. The use of such smart sensors greatly simplify the design and reduces the overall cost. We discussed in past about Humidity and tempera ...
Read more

›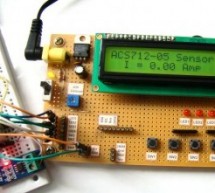 In the first part of this discussion, the features of ACS712 device were briefly discussed. Now we will use that theory to implement the ACS712 sensor to make a simple DC current meter. The analog output voltage from the sensor is measured through an ADC channel of the PIC16F1847 microcontroller. A voltage to current conversion equation will be derived and implemented in the firmware of the PIC microcontrol ...
Read more

›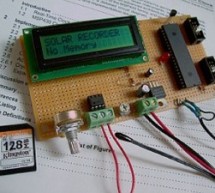 The device used for measuring daily insolation has been developed. The device was built with a PIC18F458 and the 128MB Multimedia Memory Card, MMC. The solar radiation is measured by a calculator solar cell. The PIC chip interfaces the MMC using SPI mode. The interval between samples is set to one minute. The firmware detects the memory card, assignes the file name and begins recording automatically. The LC ...
Read more

›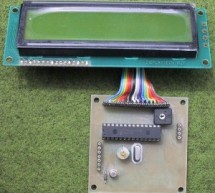 2. Counter The whole counter design is based on the PIC micro-controller 16F876A. The latter includes several peripherals and just a few of them are used in this project. The most important in this project are two internal, hardware counters/timers called TMR0 and TMR1. The TMR0 timer generates very precise interrupts every 100 microseconds (10kHz) from the 20MHz clock/reference. All required timings for th ...
Read more

›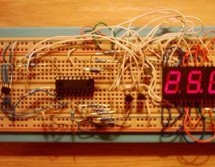 This is a test project built hastily on a solder less breadboard. It uses a LM75 to read the current temperature via I2C and displays the result on three 7 segment displays. It uses a PIC16F628 with an internal 4 Mhz clock. The program was created using JAL Note the LM75 is a surface mount device, so I had to solder wires onto it to use it on the solderless breadboard. Sorry for the bad quality photo. The s ...
Read more

›
I've wanted to build a sonar for a while now, and I was hoping to be able to do it with a design someone else had made, but alas, I've never had much luck. I've done many searches of web pages, and all that ever comes up are sonars that give a single range to one object. Nothing that would be useful for my purposes: an imaging sonar. Over 10 years ago, I'd guess, there was an article in Radio-Electronics ma ...
Read more

›
Frequency Detector using PIC 12F683 Processor This project describes hardware and software I have developed which allows a small 8 bit PIC microprocessor to function as a single frequency detector or tone decoder. Such a circuit can be used to detect the presence of a certain frequency within an analog signal, such as an audio signal.  I could be used in remote control applications, or to detect musical not ...
Read more

›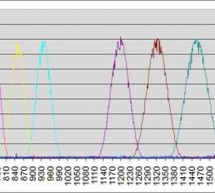 DTMF Touch Tone Decoder Using Microchip PIC Microprocessor This project contains the details of using a Microchip PIC12F683 8 bit microprocessor to detect DTMF tones. The completed program allows the processor to be programmed with a string of DTMF tones to detect. If the programmed string is detected in the audio applied the audio input, the output will turn on (go high), and can be used to control other c ...
Read more

›